Blog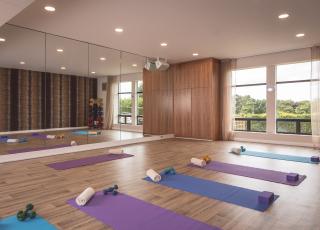 Health and Fitness Tips for Winter 2018
Posted on: 2018-01-08 11:36:02
Winter Is Here! And it's not just the Game of Thrones fans who will feel that nip in the air at this time of year. When so many of us fall foul of the common cold or chesty cough there are a few steps we can take to help fight it off and keep in peak condition. Firstly, keeping even a minimal exercise schedule in between the partying and celebration can help.
Exercise helps regulate sleep patterns and rest. In turn, having the adequate amount of sleep allows the immune system to function more optimally meaning fighting off colds is easier for the body. In addition, exercise is a great stress-buster! With exercise being shown to reduce levels of stress (and therefore Cortisol – a chemical in the body that weakens the immune system and can be influenced by stress) and promote longer positive mood states, it is a vital part to maintaining a healthy immune system through the Winter.
Secondly, fluids (this does not include beer, whisky, wine or any other alcoholic beverage). Keeping the body hydrated is always a key factor in daily health. During the winter, common colds often cause higher temperatures and in some cases sweating. This is a vicious cycle that then deprives the body of fluids needed for function and can allow the cold to worsen. If you're looking for a New Year treat to slowly ween yourself off Christmas shopping, Tracker & Motivation water bottles are the new fitness trend. They come with handy timing and quantity guides that make it easier to maintain a constant level of hydration, without feeling bloated or sluggish. Brands include HydrateM8, Hidrate Spark, as well as many independent retailers such as Tesco and Matalan designing their own.
Should your nose get a bit stuffy or a tickle develops in the throat – Hot Tea and Honey! Regardless of your tea of choice, the heat will open us the sinuses and the honey will help soothe your throat.
Finally, mum's favourite for a cold, Chicken Soup. According to researchers, chicken soup is one of the best anti-cold foods available. Whether home made from a family recipe or canned from a shop, it is believed that the simple foodstuff aids in a similar way to prior mentioned tips such as fluid intake, clearing the sinuses through heat and soothing the throat. To accompany these benefits, the comforting meal also provides a number of ingredients the are high in nutrients such as fibre, vitamin C and antioxidants. Doing a quick search of Tesco's range – they have 41 different types of Chicken Soup so you're spoilt for choice!
For further information on our Personal Training options at Culloden Estate and Spa call us now on 028 9042 1135.
---