Ultimate St.Patricks Day Guide 2019
Posted on: 2019-02-08 12:38:20
Belfast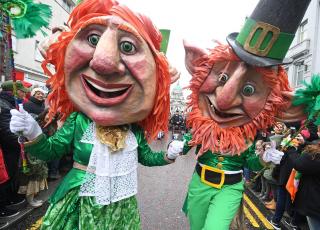 Just like that January is over, (finally) which means St.Patrick's day is just around the corner!
 
This year St.Patrick's Day falls on a Sunday which means some of us will have a long weekend of celebrating. With that in mind, we've put together the ultimate guide of what to do in Belfast and beyond.

11.00am-
Stop by Grand Café atThe Grand Central Hotelfor some delicious breakfast or pastries to start off your day, situated on Bedford Street, right behind City Hall, it's the perfect spot to fuel up for the day's activities.

12.30pm-
Watch the parade leave from city hall where performers, eye-catching floats, magnificent costumes, musicians and local community groups will fill the city with colour and music.
 
Temperature depending, you may prefer to watch the parade from the tallest bar in Ireland. The Observatoryat The Grand Central Hotelboasts panoramic views of Belfast and looks right over City Hall, the perfect vantage point to take it all in while sipping on some afternoon tea or an exotic cocktail. https://bit.ly/2t223bP

1.30pm-
To continue the celebrations, there will be a free concert at Custom House Square with Europe's number one party act, The Vengaboys taking to the stage to perform some of their top party hits such as 'We're Going to Ibiza' and 'Boom Boom Boom Boom'.
 
Enjoy the craic and make a night of it at The Europa Hotel. Walking distance from all the action, their signature 'Cloud Beds' are ideal after a day of celebrations. To book, call +44 (0) 28 9027 1066 or visit: https://bit.ly/2Tz9tPA

Looking to escape the city?
 
Head to the The Stormont Hotelfor their infamous Sunday buffet, or mark the occasion with a pint of the black stuff by a cosy fire at The Culloden Estate & Spa.
 
Why not make a day of it and take the family down to The Slieve Donard, Newcastle for a bite of lunch and a walk by the sea.
 
Off all weekend? Take a trip to Derry-Londonderry, there's plenty to do and see, check out our Derry guide here > https://bit.ly/2DY0Dpe
 
Whatever you choose to do, we hope you have a wonderful St.Patrick's Day!
 
---