Introducing our Hotel Heores!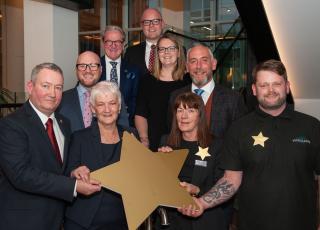 Four members of staff from Hastings Hotels, with a combined 123 years of employment with the group, have been recognised as Hotel Heroes by the Northern Ireland Hotels Federation (NIHF).
 
To celebrate its 20th anniversary, the NIHF has marked the occasion by identifying 20 stars of the industry which were nominated and then selected by multiple independent judges.
 
Receiving the prestigious accolades are Nora Hanna, Business Manager at the Slieve Donard Resort & Spa and Phil McCartan, Head Housekeeper at the Stormont Hotel – both ladies have been with the hotels for 39 years each; Martin Mulholland, Head Concierge at the Europa Hotel where he has worked for 35 years and Sean Kavanagh who has been a Kitchen Porter in the Everglades Hotel for 10 years.
 
Edward Carson, Chairman of Hastings Hotels said: "I would like to congratulate Nora, Phil, Martin and Sean on being recognised as one of Northern Ireland's Hotel Heroes. They have each been dedicated members of staff for decades and set a shining example to their colleagues in their respective hotels and across the group. They are passionate about the industry, go over and above to ensure our guests have a memorable visit and are each truly deserving of the title of Hotel Hero."
 
"At Hastings Hotels, we pride ourselves on investing in our employees as we believe they play a vital role in our continued success. It is colleagues like Phil, Nora, Martin and Sean who help our company, and indeed the local tourism industry, continue to grow. When guests enjoy their visit, not only will they return, but they will tell other people about their experience, which is why acknowledging the people working in this industry, which has so many diverse roles all playing a major part in its success, is important. It is also thanks to the efforts of our staff that enable Hastings Hotels to pick up prestigious accolades including being named Ireland's Best Luxury Hotel Group for two years in a row and most recently the Grand Central Hotel winning Hotel of the Year at last week's Ulster Tatler Awards.
 
I would also like to congratulate the Northern Ireland Hotels Federation on celebrating 20 years of representing the local hotel and guesthouse sectors and the essential work it carries out to support the industry and help drive it forward," Edward concluded.
---