5 Reasons to Visit Belfast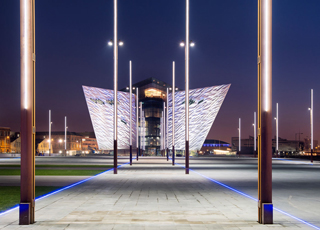 5 Reasons to Visit Belfast

With the Irish public holiday of St Brigid's Day approaching, what better way to spend your long weekend than in the bustling city of Belfast? To help you out, we have put together a list of 5 reasons why you must visit Belfast and have the best time doing so.
 
Ulster Museum
Does the history of Ulster fascinate you? Then the Ulster Museum will not let you down! Located in the Botanic Gardens, it is one of the largest museums in Northern Ireland. Founded in 1821, it shows the history of Ulster way back to the 1500's. You will be amazed with what the museum can offer, from first inhabitants, gallery of the troubles, as well as Egyptian mummies! There are also interactive zones which give visitors a more unique experience. The best thing about this museum is that it is completely free, therefore you shouldn't pass up on the opportunity to visit this museum!
 
St. George's Markets
Located on Oxford Street stands one of the oldest markets in the UK having originated in 1604! Explore hundreds of vendors' stalls that provide fresh local food, antiques, and handmade crafts - there is something for everyone. Local bands as well as musicians perform during the weekends, creating the liveliest atmosphere in Belfast! The market is only open at the weekends, so make sure you visit this award-winning market, as it definitely lives up to its title!
 
W5
Located a short walk from Titanic Belfast stands an award-winning science and discovery centre W5. Suitable for all ages, it is perfect for a family day out. Providing a unique experience for the visitors, including over 250 interactive exhibits. W5 have been able to cover important topics such as climate change, nature, engineering, and science in a much more interactive and exciting way. This includes a massive multi-story climbing structure allowing the kids to unleash their inner explorer, as well as a multisensory world allowing them to ignite their imagination. W5 has been completely reimagined with a major £5million investment, making it a MUST this bank holiday weekend.
 
Van Gogh Exhibition
Visit the newest attraction in Belfast – The Van Gogh Exhibit: The Immersive Experience. Sit back and observe the 360-degree digital art which brings Van Gogh's work to life. showcasing over 300 drawings and paintings, including his infamous 'Starry Night'. The exhibit also provides a more personal experience, which includes a Visual Reality (VR) room which allows you take in immersive videos which are projected all over the room, moving you through Van Gough's journey.
 
Coastal Walk to Bangor
Did you know you can enjoy a coastal walk from Belfast to Bangor City and if timed perfectly you'll see some of the most picturesque sunrises or sunsets across Belfast Lough. While the full route is 16 miles of outdoor bliss, why not stop off at the Cultra Inn or Culloden Estate & Spa when you reach the beach front just past Holywood, with a train station right beside the estate grounds for a short journey to Bangor or return to Belfast.
---