Meet the Team!
Posted on: 2022-06-15 15:16:22
Staff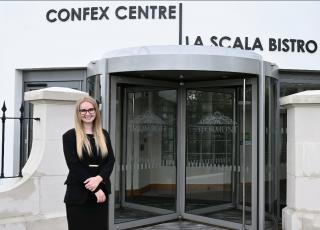 Meet Samantha Graham the Events Coordinator at The Stormont Hotel! 
What is a typical day for an Events Coordinator?
No two days are ever the same! One day I could be helping someone plan their dream wedding, and the next I could be dealing with a business delegate. A big part of my job is communication! Every day I'm speaking with people whether it be through email, phone calls, or face to face. I really enjoy speaking with guests and getting a better understanding of their personalities, as it really helps when planning an event for them. 
What is your favourite part of your job? 
I love seeing an event come together, and how all the finner details contribute to the final product. Every day I learn something new, and feel I'm continuously developing my skills since joining the team! 
What do you enjoy most about working at The Stormont Hotel? 
We're one big family! We always try to help each other where we can, it's a lovely atmosphere amongst the team and makes coming to work enjoyable. 
---