Five Reasons To Love Brunch
Posted on: 2022-08-04 15:04:56
News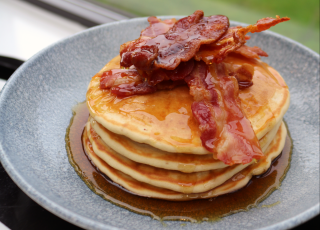 Are you a brunch lover? Whether you are catching up with friends, entertaining family or simply treating yourself, we think that brunch has to be the perfect social occasion.
Brunch = breakfast and lunch and when you are combining two meals in one, you really do have a great excuse to indulge in some delicious dishes.  Happily, brunch is a much more relaxed meal than either lunch or dinner and you can really take a lot more time to eat, drink, chat and relax in style in our La Scala Restaurant.
A lot of people consider brunch to be a modern phenomenon for the Millennials, but it actually originated in England in the late 19th century and has continued to grow in popularity ever since.
We are sure that you are already a keen fan of brunch but if you need some convincing, here are our top five reasons to love it: 
1      It combines the best parts of lunch and breakfast. You can enjoy both sweet and savoury together. Lunch and dinner are pretty strictly savoury, while the sweet stuff tends to appear more at breakfast. With brunch, you can have both and the best bit is, no one will bat an eye! Our American pancake stack is the perfect example. Pancakes with Grant's streaky bacon and maple syrup- total sweet & savoury heaven!
2      It can start any time you like.  Let's face it, sometimes breakfast is just too early. With our brunch being served from 10am to 3pm daily, you can enjoy a much more relaxed start to the day before you tuck into our Smashed avocado on toast a total feast with two poached eggs, rocket and chilli flakes all served on sourdough!
3      As a rule, it's always acceptable to drink alcohol at brunch. Bucks Fizz is a perfect choice and the orange juice in it gives you a health-boosting dose of vitamin C to ease your conscience.
4      Brunch is a very good excuse to indulge. You can skip your breakfast and you will be too full for lunch, so brunch is pretty much a free pass to gorge on some of our delicious dishes. We can recommend our Brunch Burger, juicy pork & apple burger with hash brown, smoked ketchup and a fried egg on an English muffin- heaven!
5      It's great fun! What could possibly be better than eating breakfast/ lunch food, enjoying drinks and catching up with your friends and family in a relaxed style?
Our delicious brunch menu also features Eggs Benedict, two poached eggs, served on English Muffins, topped with Grants dry cured bacon and a Hollandaise sauce; Eggs Royale, two poached eggs served on English muffins with hot smoked salmon and topped with Hollandaise sauce.  We also have a vegetarian option, the Vegetarian Brunch Burger, veggie burger, hash brown, fried egg and smoked ketchup served on an English muffin.
Why not make a booking and give our excellent brunch menu a try? You definitely won't regret it...
---