Manager of the Year award for Neil
Posted on: 2018-06-21 13:54:51
News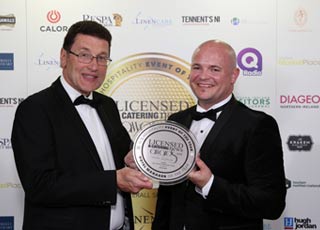 We are delighted to announce that our General Manager, Neil Devlin was recently named as the Hotel Manager of the Year at the ninth Licensed and Catering News (LCN) Gala Awards held at the Europa Hotel on 1st June. 
More than 450 representatives of Northern Ireland's hospitality and tourism industries saw Neil collect his award in person at the event.
Speaking during the event, awards organiser, Bill Penton, said that he was delighted with the turn-out and very pleased by the high standard of this year's finalists in every category:
 "This is the ninth time that we've staged these prestigious awards and we welcomed more people to The Europa in 2018 than we've ever done before," he added.
"The hospitality sector has embraced these awards from the outset and we were very happy to welcome many new faces along to the Europa as well as very many old friends who compete every year.
"It's very important to mark and reward the tremendous effort that this whole sector puts in on a daily basis all over Northern Ireland. The hospitality sector is vital to the economy of this country, more so with every passing year, but the sheer talent and the skill of the people that you see competing here tonight goes to show the level of energy and innovation with which the trade is responding to those demands," added Bill.
---