Desmond takes charge at the Everglades
Posted on: 2017-10-05 09:40:03
Staff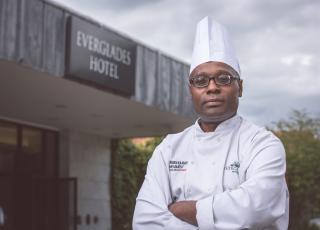 Birmingham-born Desmond Morris has just been announced as the new executive head chef at the Everglades Hotel. Desmond replaces Colman O'Driscoll who has moved on. 
With more than 30 years of experience in the hospitality trade. Desmond has been employed at the north-west hotel since 2012 when he arrived as sous chef. His roles includes overseeing the running of the Everglades' kitchens, ordering produce and designing all the menus. 
Desmond completed his catering training at college in his native Birmingham and go his 'first proper cheffing job' at Rusties, a Caribbean silver service restaurant in the city that was owned by chef and television personality Rustie Lee. Desmond, who was 17 at the time, began as a commis chef and stayed there for just over a year. 
After that, he spent nearly five years working on Jersey, most notably at Central Park restaurant on St. Helier, where he stayed for three years. 
'I knew what I wanted to do, I was still enjoying catering very much and excited about what I was going to do next', recalls Desmond. 
At 22, his next position was a little more removed from the commercial kitchen when he took a job with international sandwich chain, Pret a Manger as part of its staff training and development team. He stayed there for around four years, helping staff members to better understand topics such as health and safety and food hygiene.
Desmond had met his wife, Noreen from Derry-Londonderry during his time in Jersey and the pair were married in 1994, leading eventually to a trturn to the north-west in early 2002 where Desmond took up the position of head chef at Rafters Restaurant.
'Rafters was a busy restaurant at the time and I was able to create a job that I liked and which worked for me' Desmond says. 
By 2012, Desmond was on the move again, this time to the Everglades Hote. The move involved dropping back to a sous chef's position, but Desmond says that was necessary in order to help him increase his experience of working in hotels. And when Colman O'Driscoll moved on recently, Desmond was promoted into the head chef's role:
"We are looking at changing some things" he confirmed. "We want to develop further our very successful afternoon-tea format, we're going to improve the pastry selection and introduce more local products."
The focus will also be on extending the Everglades' already significant wedding trade to take advantage of the newly extended facilities. A £1.5m refurbishment and expansion scheme at the venue early this year means that the grand ballroom can now accommodation up to 650 guests.
Desmond's priorities at the moment including changing and improving all the menus in the hotel to make them more innovative and representative of the quality local food that is available. 
And his own personal ambition is "excel within the Hastings group".
"I'm very happy at the Everglades and we're really focused on making this this best hotel in the north-west," added Desmond. "I would eventually like to be able to take up other positions within the Hastings group, that's my long-term goal."
This article first appeared in the September 2017 Issue of Licensed & Catering News. 
---