Blog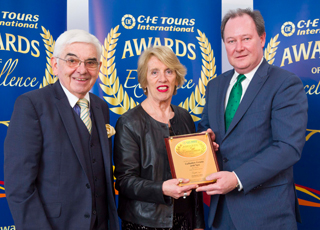 Culloden Estate & Spa wins Best Hotel prize at CIE Awards
Posted on: 2018-02-12 10:56:11
News
The Culloden Estate & Spa was named Best Hotel Accommodation by leading Irish tour operator, CIE Tours International at the prestigious Awards for Excellence ceremony which was held at a reception in the National Gallery of Ireland. With 86 years of experience, CIE Tours International is the largest tour operator into Ireland and winners were chosen according to feedback from 30,000 customer surveys.
The Culloden Estate & Spa's sister property, The Europa Hotel was also presented with an Award of Excellence for consistently exceeding the expecation of guests.
General Manager of the Culloden Estate and Spa, Eoin O'Sullivan is pictured accepting the award from Peter Malone, board member of CIE, and Chairperson, Vivienne Jupp. 
For the latest accommodation offers at the Culloden Estate & Spa please visit our website here. 
---