A Day in the Life - Scott Weatherup, Assistant Hotel Manager
Posted on: 2018-06-13 09:01:38
Staff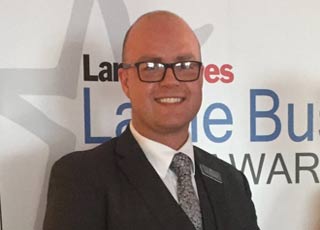 Scott Weatherup is the Assistant Hotel Manager at Ballygally Castle and is a well-known face to our guests and visitors. Here he gives us an insight into his role, the skills needed to do the job and the challenges he faces on a daily basis. 
How did you get into your current position?
Having worked in hospitality for 12 years, I started with Hastings Hotels as a Night Porter, progressing to Bar Supervisor which lead to Duty Management and the last 5 years in my current role as Assistant Hotel Manager. I have been very fortunate for the investment from the company in my career progression throughout the years leading ultimately to a Hospitality Degree from the Ulster University Business School.
How would you describe your typical working day?
Lively, hectic - literally no 2 days are ever the same. One day I could be looking after 3 tour groups in the restaurant and the next, managing the most special day of a Bride and Grooms lives! My job requires me to look after the day to day operations and ensure that staffing levels are correct for all departments while also keeping in mind budgeting and cost control. Staff development is also at the forefront of my daily attitude and responsibility as a manager.
What skills do you need for your job?
Having an eye for detail is essential, excellent communication, teamwork, ability to motivate, ability to thrive under pressure, having awareness of business and financial controls, the ability to meet challenges head-on with exemplary behaviour to other employees, flexibility and patience.
What is most rewarding about your job?
I wouldn't say there is just one rewarding aspect of this position. Some of the most rewarding times have been seeing staff progress into higher roles in the hotel and within the Group. It is also very satisfying receiving feedback to advise that we have exceeded guests expectations while they have been with us.
What have been the highlights from your time at the hotel?
During my career with Hastings Hotels I have had so many opportunities in different aspects of the business. A few that come to mind, would be helping my colleagues in the Europa with the official EMA after party in 2011 (which of course my lips are sealed about!) and being part of the senior management team during a £3.5 million refurbishment and rebrand of Ballygally Castle in 2014. I am also very privileged to have managed so many weddings during my time with the company, it has been a real pleasure to do this with such a fantastic team.
What are the greatest challenges/pressures of the job? 
Time management would be the greatest challenge I face, fitting so many tasks into my working day.
What was the best piece of advice given to you, or what advice would you give to someone interested in pursuing a career in hospitality?
Some advice that I have drawn on and that I would give to someone looking to pursue a career in hospitality would be to understand that moving up the ladder in the business involves being committed to every role and to be the best that you can be which will make people want to employ you.
What are the questions that you are most commonly asked when people find out what you do? 
'Can I have a duck?' and 'Have you ever seen the Ghost?'
If you could do any other job what would that be? 
CEO of Moet & Chandon
How do you relax outside of work?
Socialising with friends and enjoying the odd glass of Moet & Chandon.
---