Mother of Quackers - it's the Duck of Thrones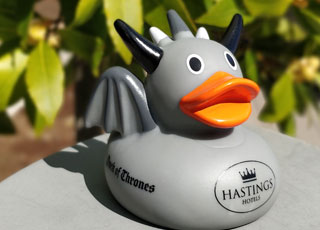 We are delighted to unveil the freshly hatched, Duck of Thrones to coincide with the launch of the 2018 Game of Thrones tour series at Ballygally Castle.
Fans of the hit series Game of Thrones are in for an epic treat as our programme of tours are back by very popular demand for the 2018 season. And those booking this special tour package will receive their very own, complimentary Duck of Thrones. The tours will take place on the following dates:
Saturday 23rd June
Saturday 14th July 
Friday 10th August  
Friday 21st September

Ballygally Castle is the perfect base for exploring the Game of Thrones filming locations along the stunning Antrim & Causeway Coastal Route. The itinerary for the tour is as follows:
Day 1
12 noon - Arrival at Ballygally Castle Hotel with Game of Thrones Afternoon Tea
1.00pm - Departure for Game of Thrones Tour of the Coast with Leisure Tours NI
7.00pm -  Return to Ballygally Castle
8.00pm - Game of Thrones Banquet
Day 2
9.00am - Breakfast
11.00am - Check out of hotel
Packages available from £150pps. For Bookings call Ballygally Castle on 028 2858 1066 or online booking is available here. 
The Duck of Thrones is also available to those booking a Game of Thrones themed Afternoon Tea. Priced at just £24 per person, this features a selection of sweet and savoury delights inspired by the series. Please note that Game of Thrones Afternoon Teas must be booked with 24 hours notice. 
---