A Game of Thrones Themed Trip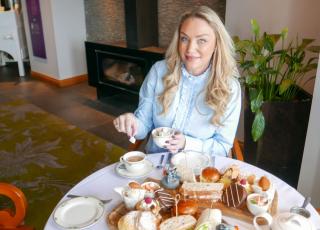 A Game of Thrones themed trip to Northern Ireland with Guest Blogger Louise Loves London

Being a Londoner, it is not very often, that I get to see breathtakingly beautiful nature, but luckily I do not need to travel very far to get myself a boost of green. 
As you might remember, my little family spent a lovely weekend in Plymouth and Somerset a few weeks ago! I loved every minute, and I couldn't wait for our next mini-holiday, which was something I have been looking forward to for a very long time! For someone, who has been travelling a lot in Europe, it was such exciting news finding out, that Frenchie and I were going to Northern Ireland!  None of us have ever been to Northern Ireland before, so we were very curious to finally go here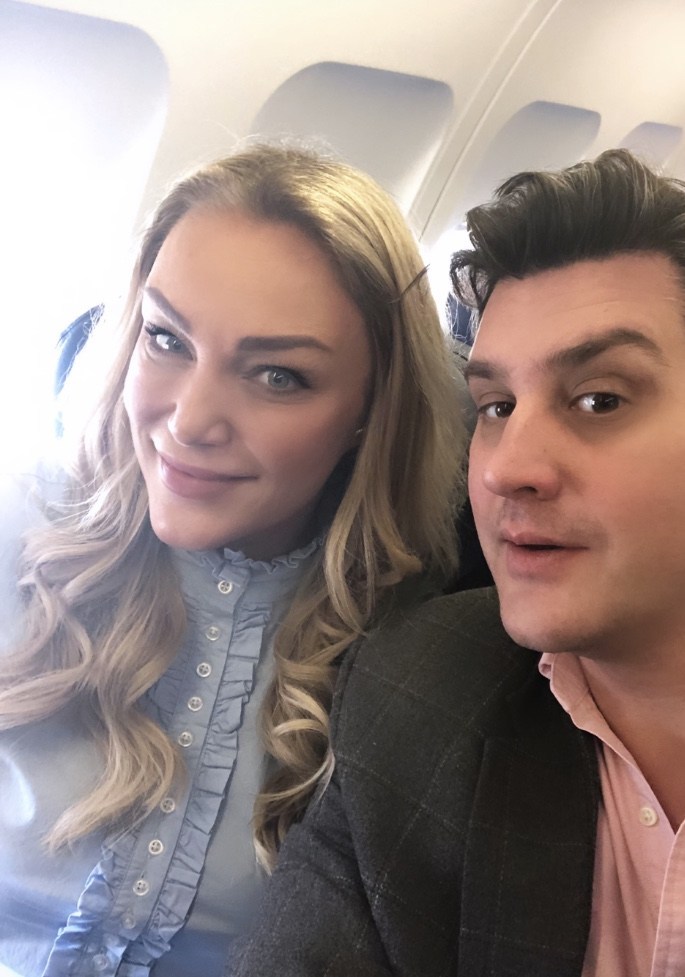 It was also our first trip without little Clara! A bit of challenge for me – but looking back, it was better, that she stayed at home with her grandmother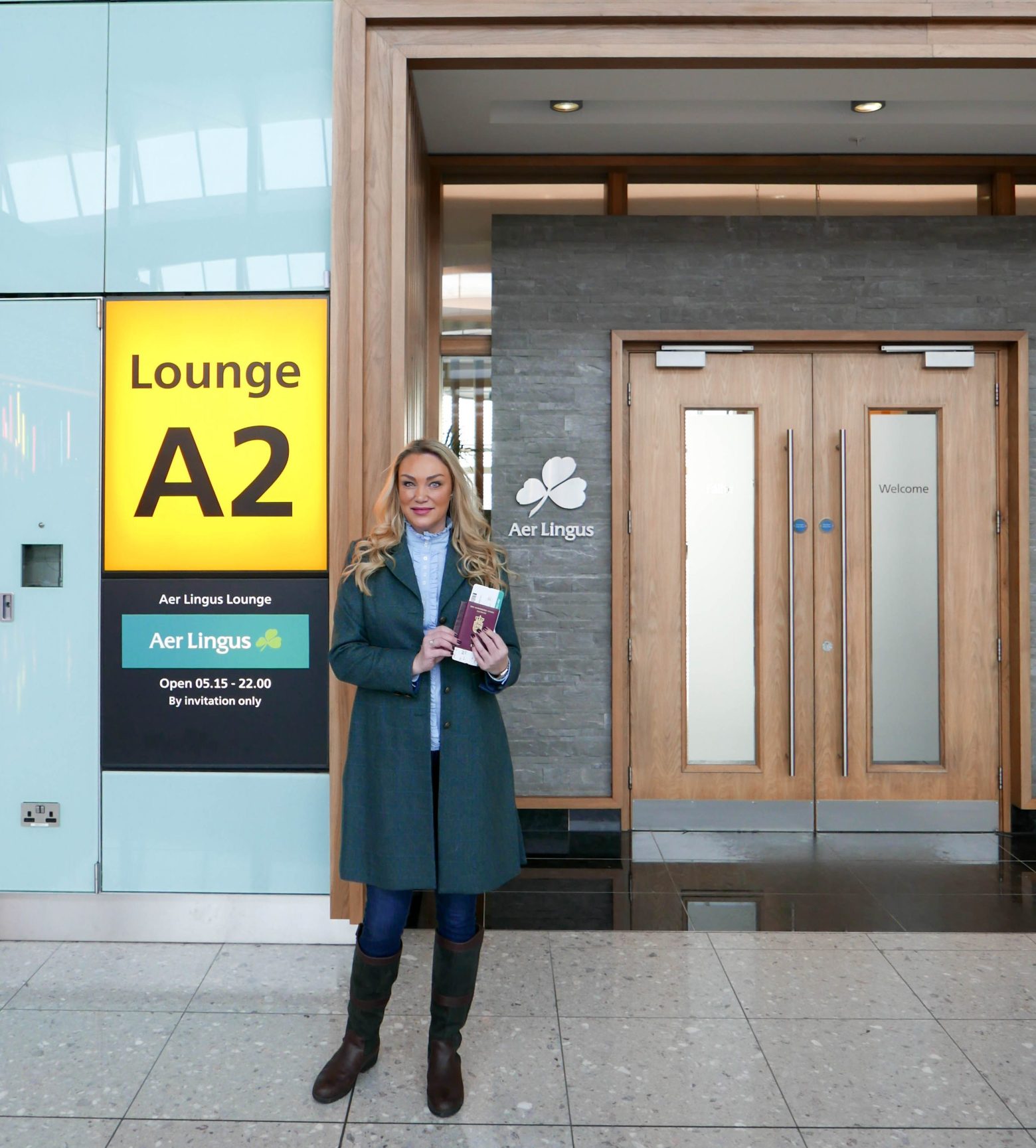 We travelled with Air Lingus from Heathrow Airport to George Best Belfast CIty Airport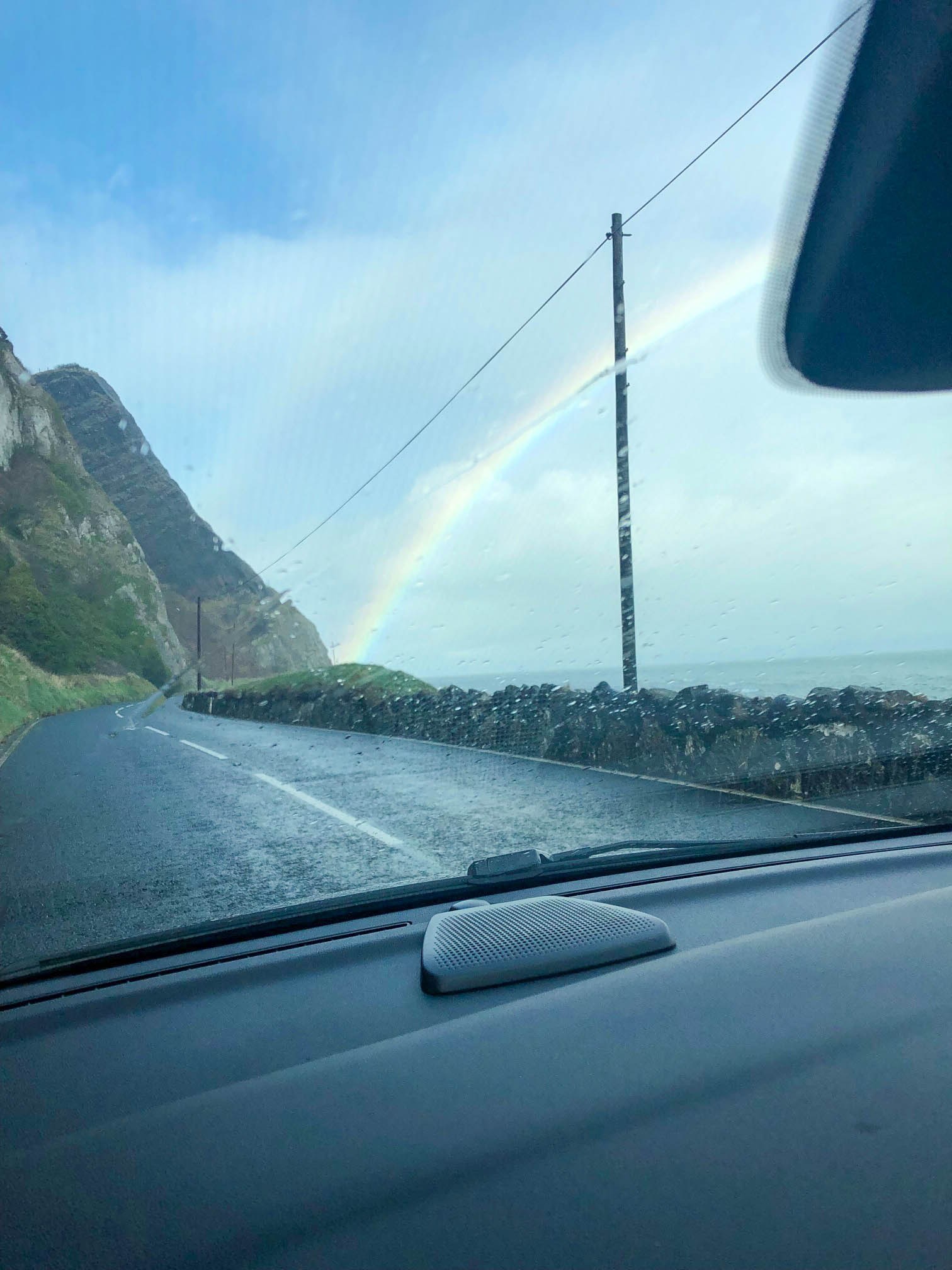 Arrived and on our way in our rental car. From the car we could see, that great adventures were waiting ahead. This beautiful rainbow was just one of many… But you have to be prepared for the changing weather!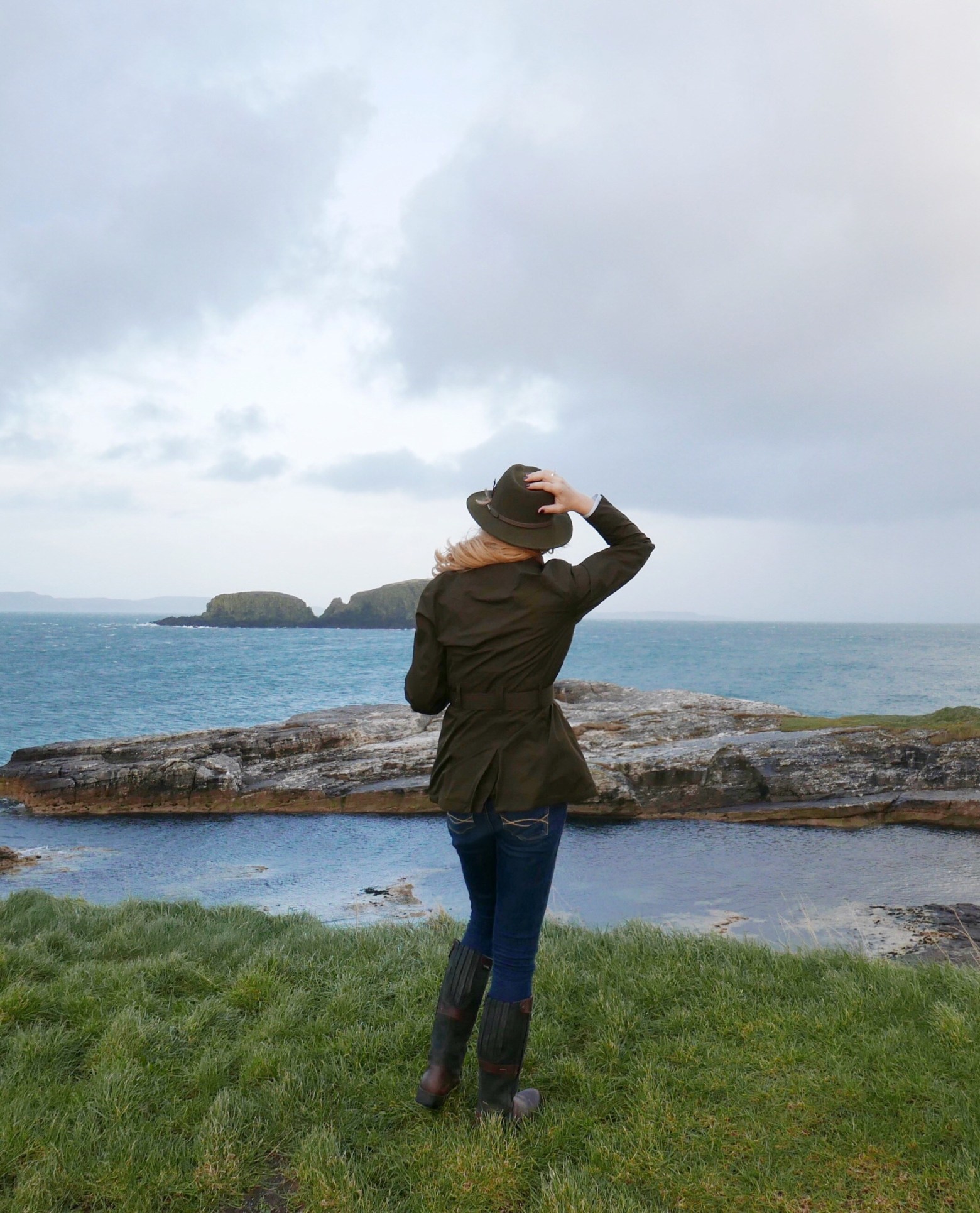 These landscapes were so magical they could be fantasy (This is Ballintoy)
We drove along the captivating Causeway Coastal Route that stretches for 120 miles from Belfast Lough to Lough Foyle. The principal route links the pretty little coastal villages of Glenarm, Carnlough, Cushendall, Cushendun and Ballintoy. Unmissable attractions include Carrickfergus Castle, The Gobbins Cliff Path, The Carrick-a-Rede Rope Bridge, Dunluce Castle, Old Bushmills Distillery and of course the Giant's Causeway – one of Europe's most celebrated natural wonders. Bonus-info: The weather in Northern Ireland can be tricky! As one of our local taxi drivers said (with a big smile on his face and a very strong accent) "It is normal to experience four seasons within two hours here…"  And he was right! (We really wanted to try the Rope Bridge, but when we arrived, it was too dangerous to go out there, as it was stormy weather. Also be aware of opening hours on some of the attractions)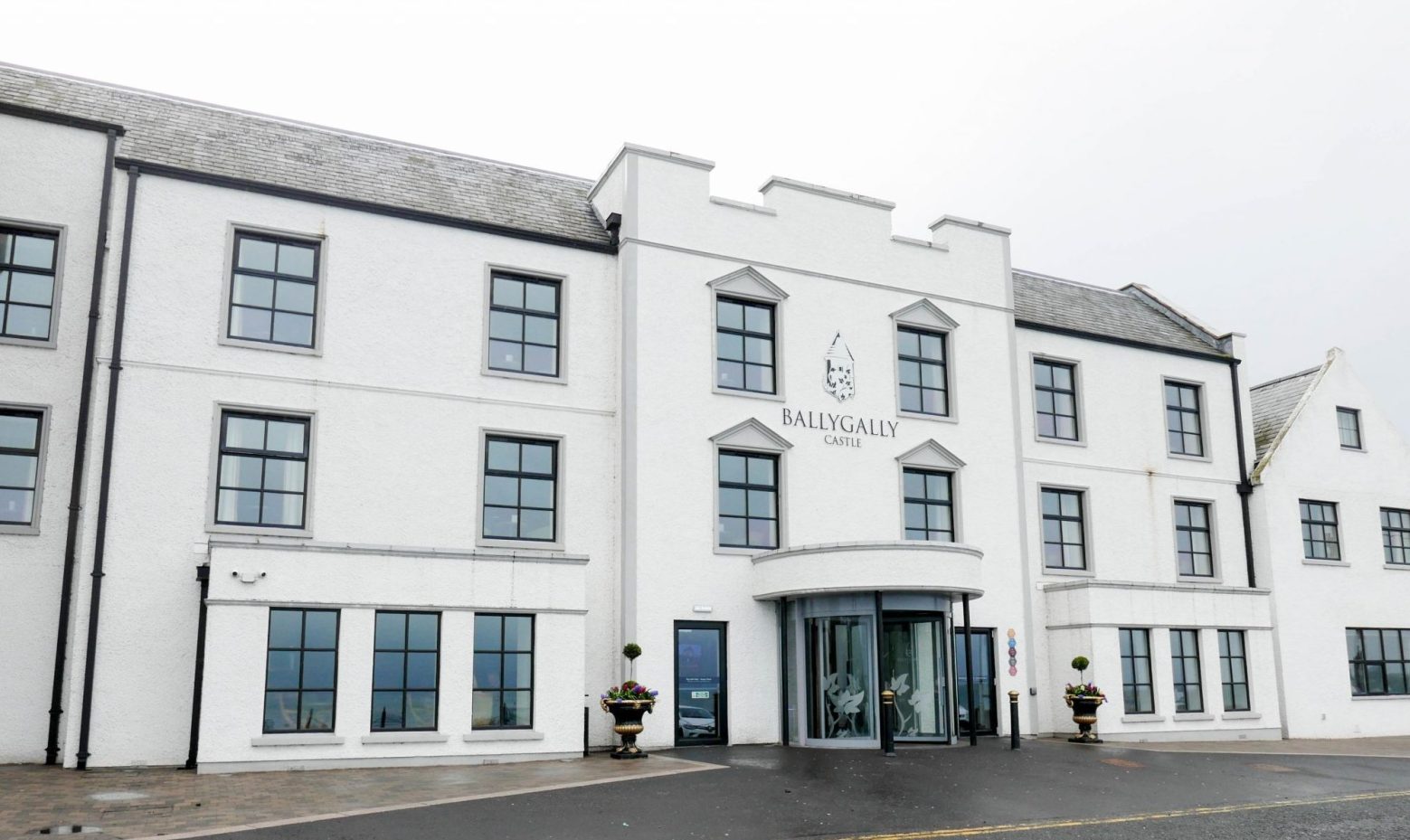 Ballygally Castle Hotel (which is much more beautiful in real life!)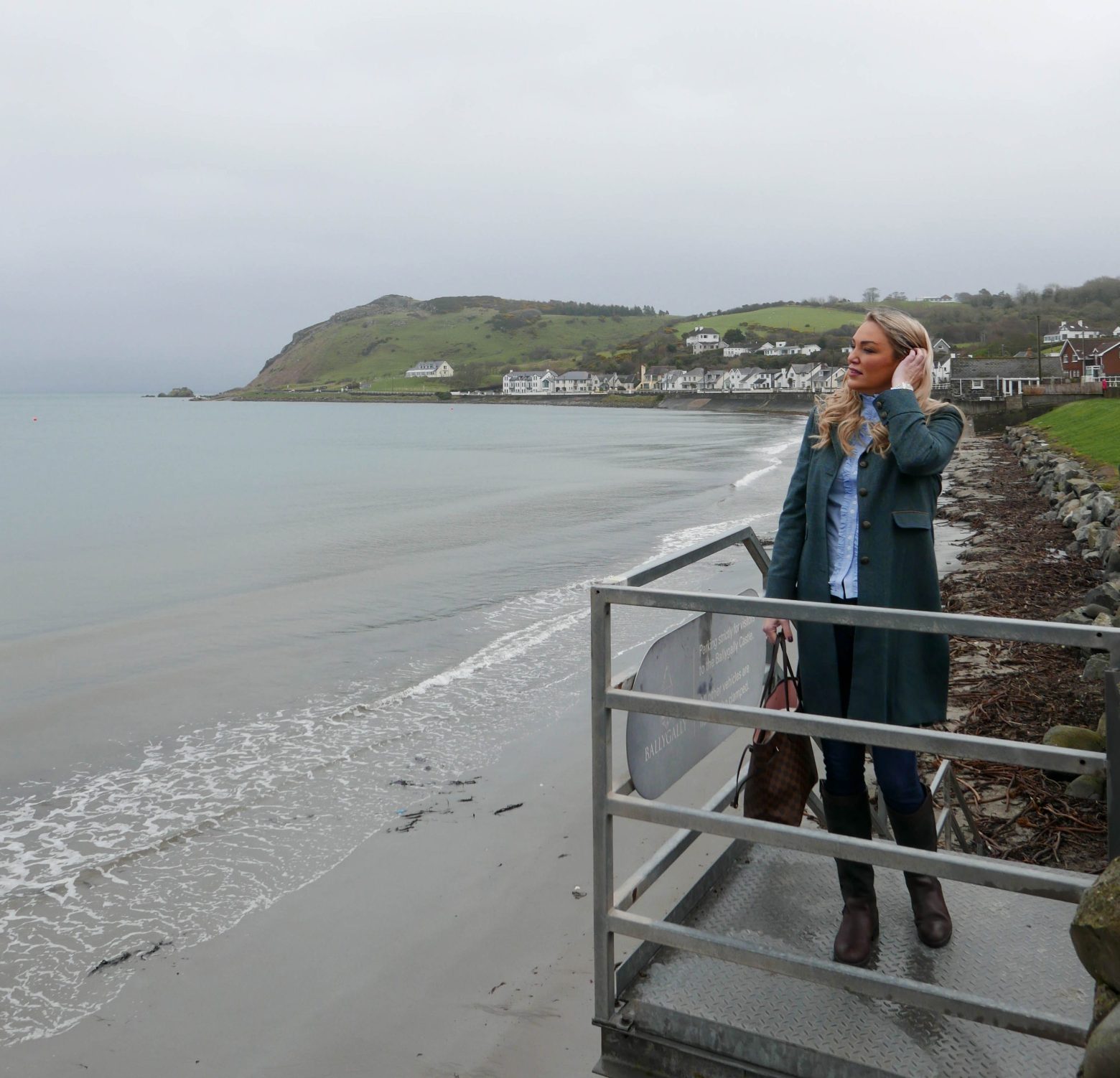 The scenic Antrim Coast
Our first stop on the way was Ballygally Castle Hotel at the Antrim Coast, where we were invited to enjoy a Game of Thrones themed Afternoon Tea
Now you might think… Game of Thrones Afternoon Tea! But why? I will tell you why! Game of Thrones is one of the most popular and successful fantasy TV series ever made. Filming of seasons 1-7 took place in around 25 locations around Northern Ireland. The breathtaking scenery provides the backdrop for everything from Winterfell to The Dothraki Sea. (To mention a few: Titanic Studios in Belfast, Cushendun Caves, Murlough Bay, Ballintoy Harbour, Larrybane, Antrim plateau, Castle Ward, Inch Abbey and Downhill Strand)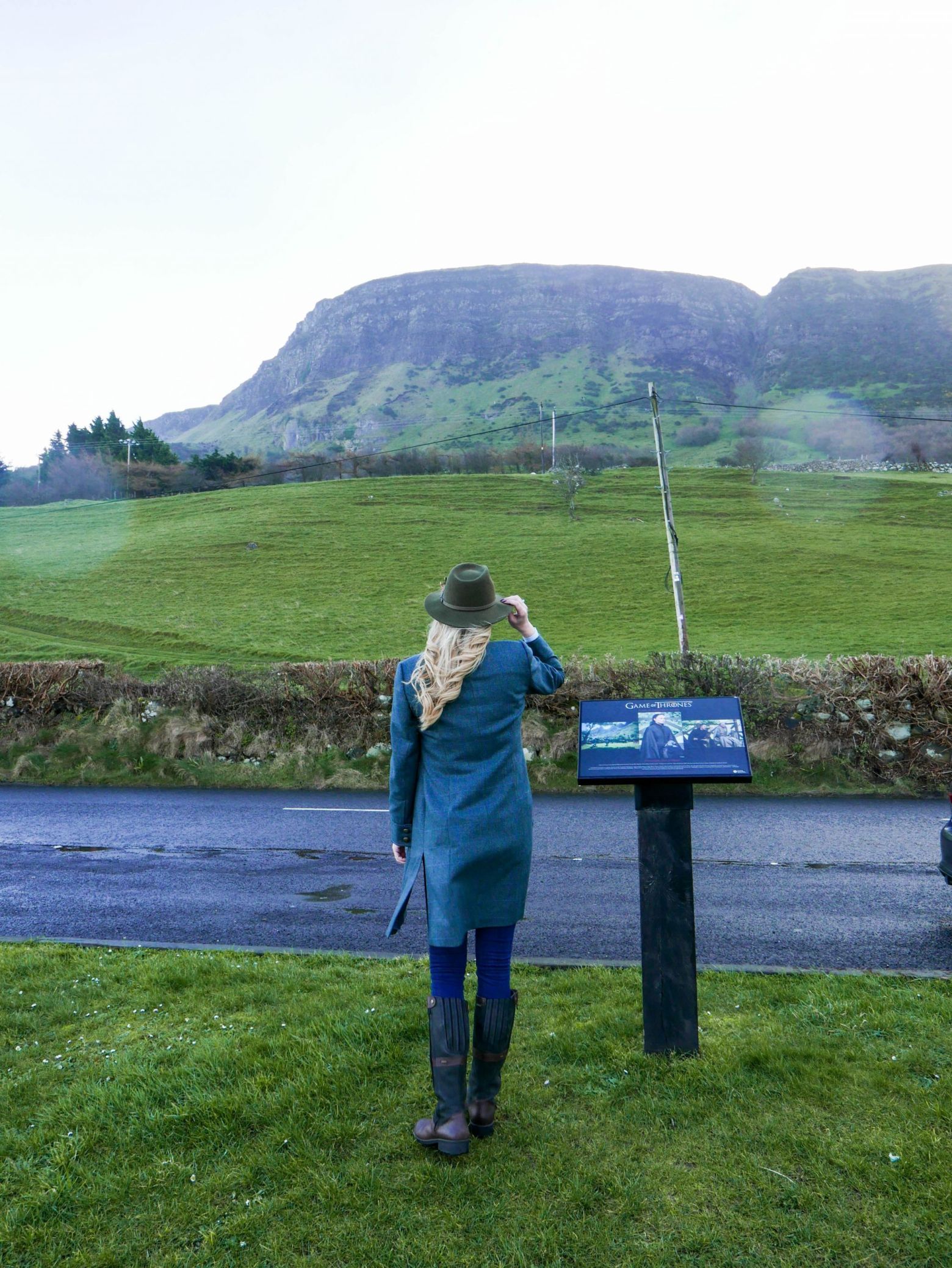 Because of Game of Thrones, Northern Ireland has become an even more popular travel destination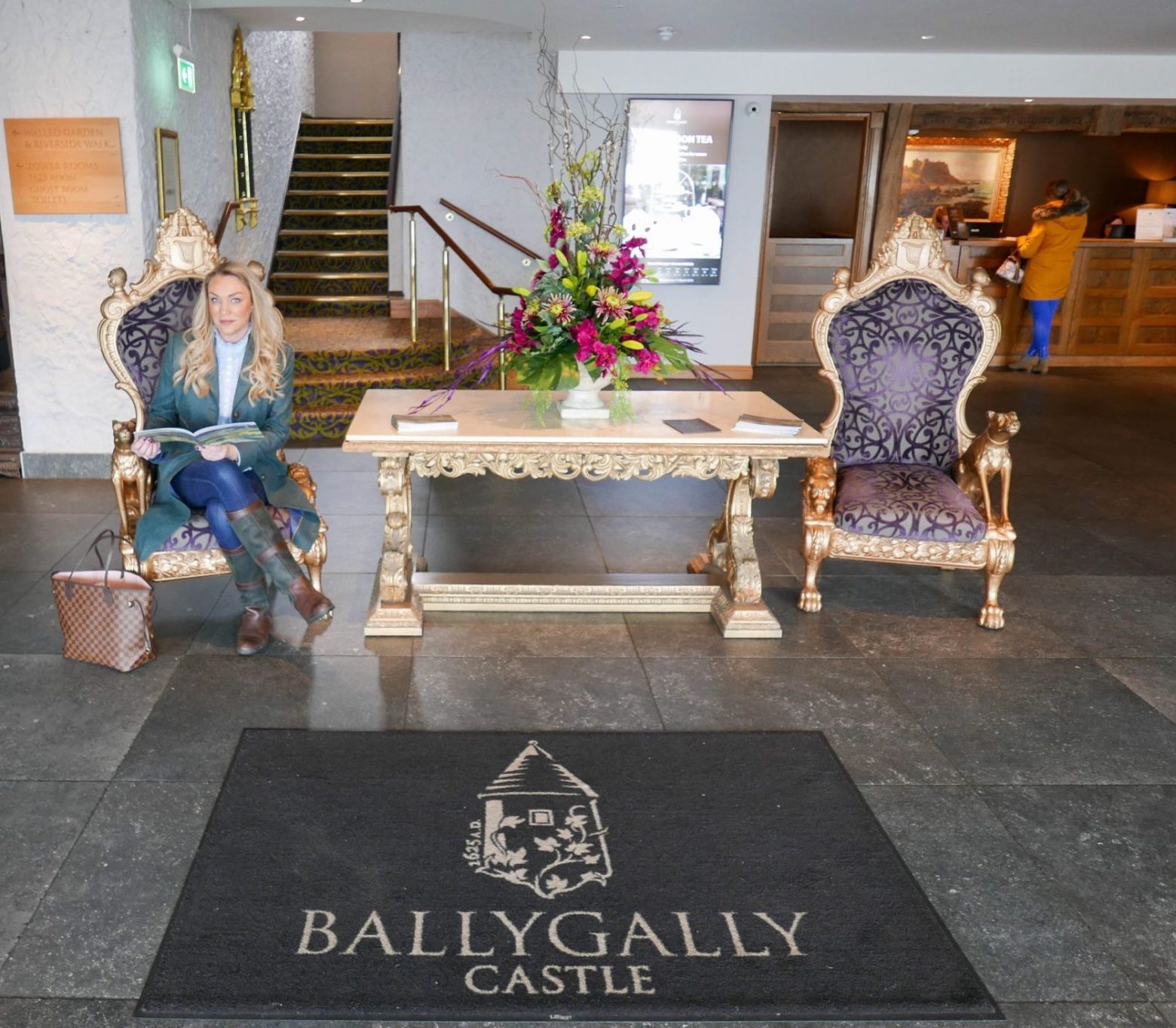 Back to Ballygally Castle Hotel and our Game of Thrones Afternoon Tea…
Ballygally Castle on the Causeway Coast in County Antrim is the proud home of Game of Thrones Door of Thrones No 9: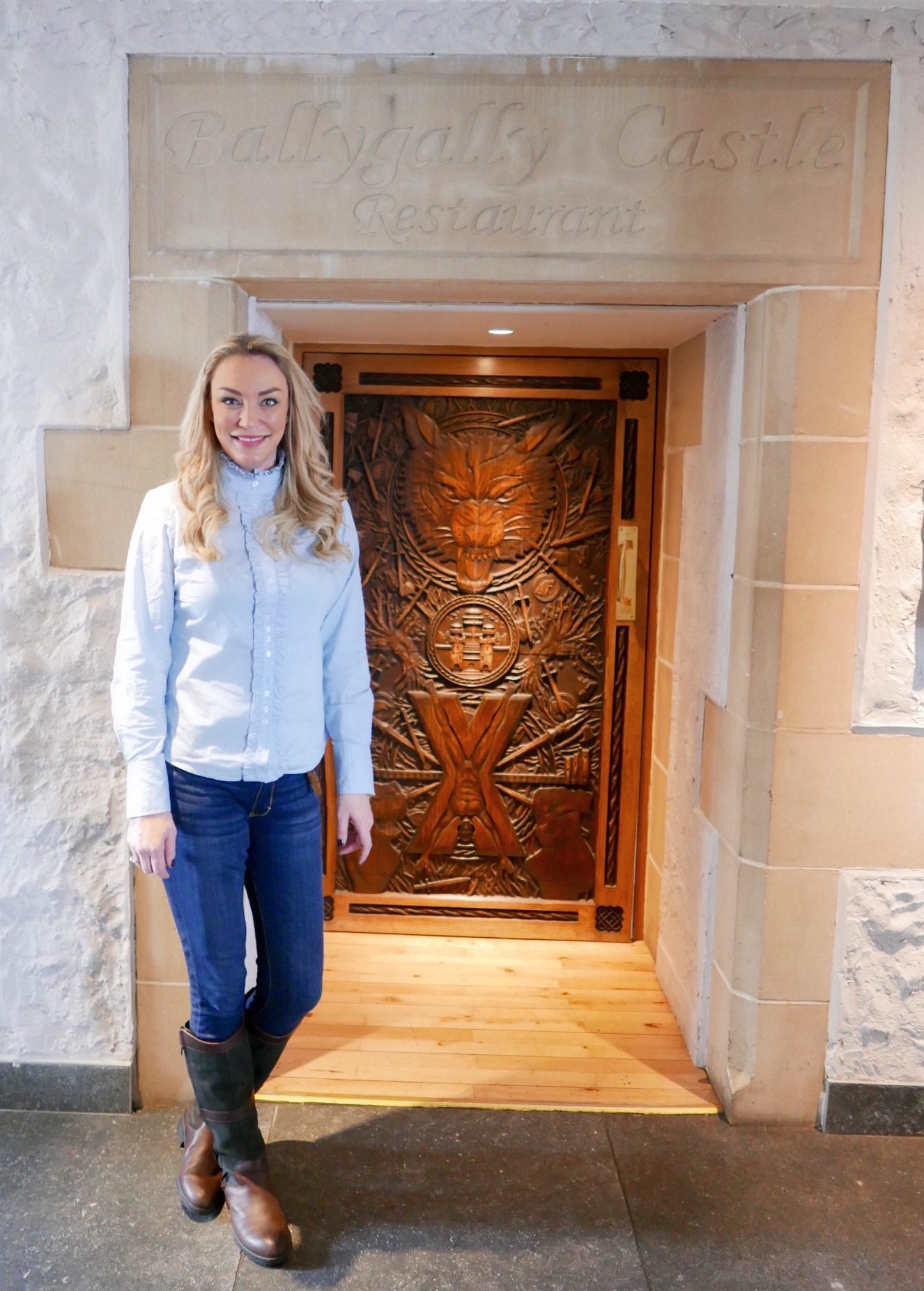 Door No 9 depicts the famous battle between House Stark and House Bolton in the penultimate episode of Season 6. Carved in this beautiful door, you will se the crests of House Bolton and House Stark, Ramsey Bolton's hungry dogs and Winterfell Castle.
So where did the idea of the "Door of Thrones" come from?  When the trees along Northern Ireland's famous Dark Hedges (better known to Game of Thrones fans as the 'Kingsroad') blew over in Storm Gertrude, the locals decided to save that piece of history for fans. They carved the felled wood into a set of 10 intricate doors, hung across ‪a variety of locations in Northern Ireland‬, each telling the story of a Season 6 episode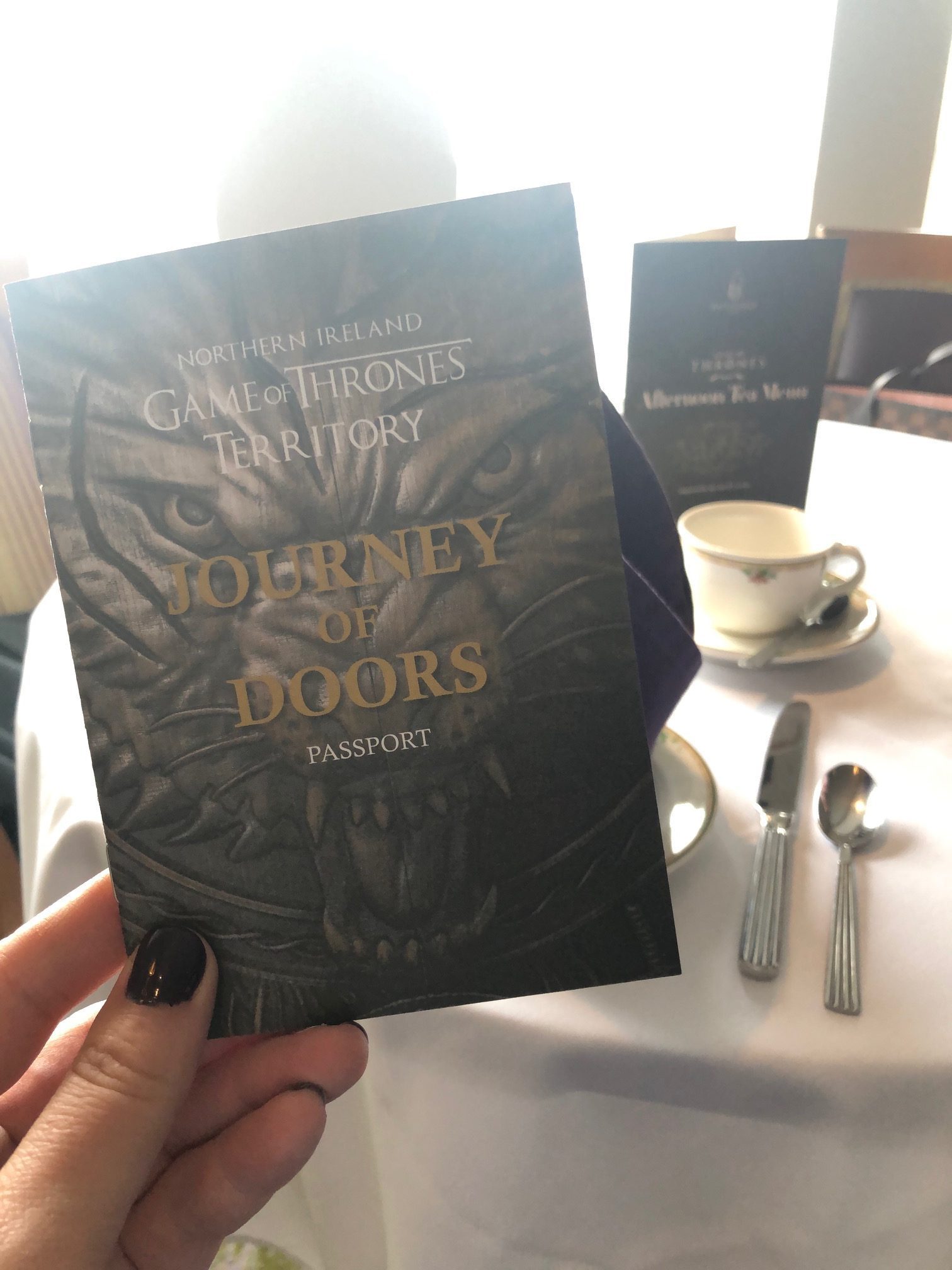 Game of Thrones fans gets a stamp in a special passport when they visit each of the 10 doors scattered around Northern Ireland. How cool is that?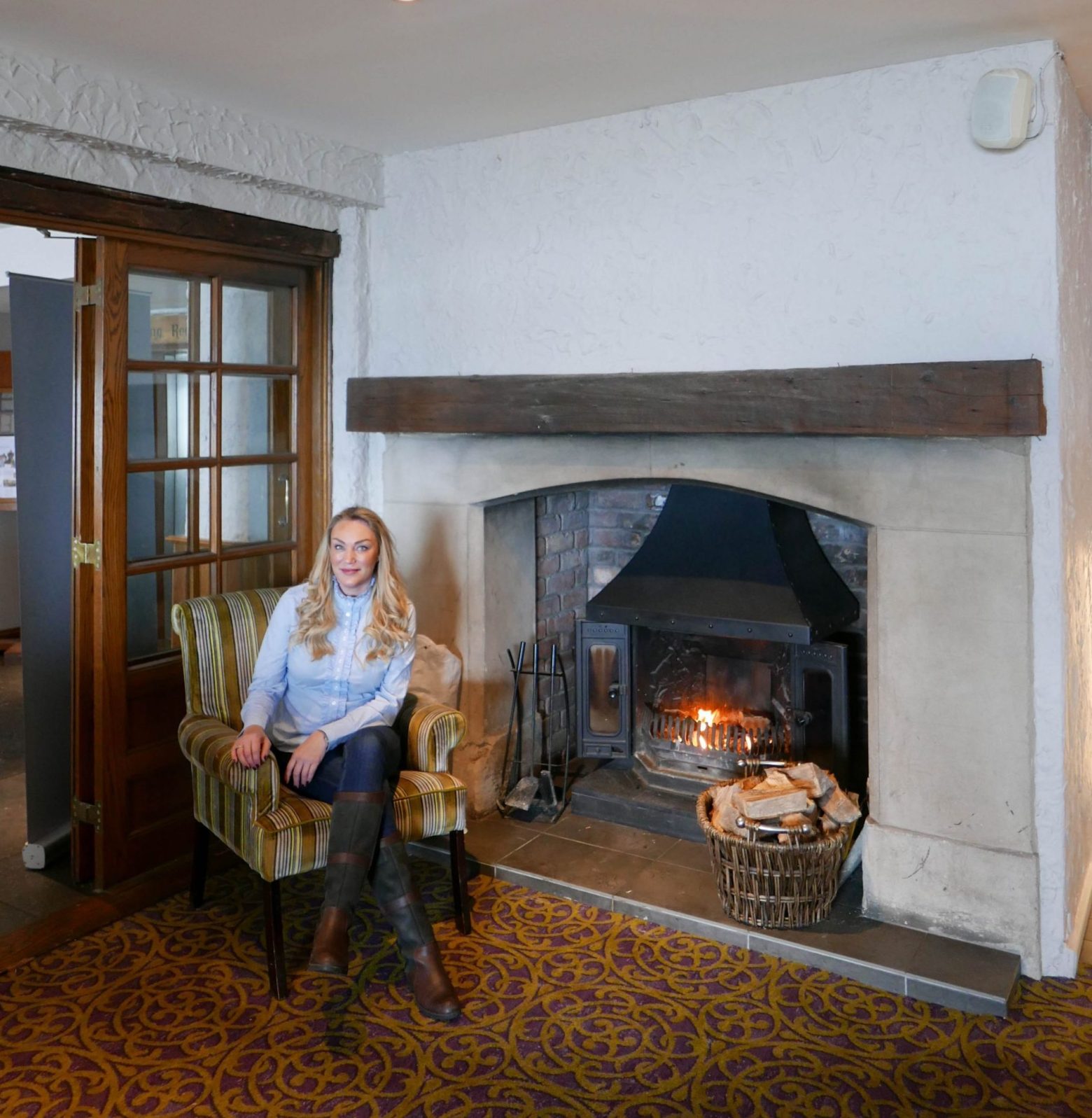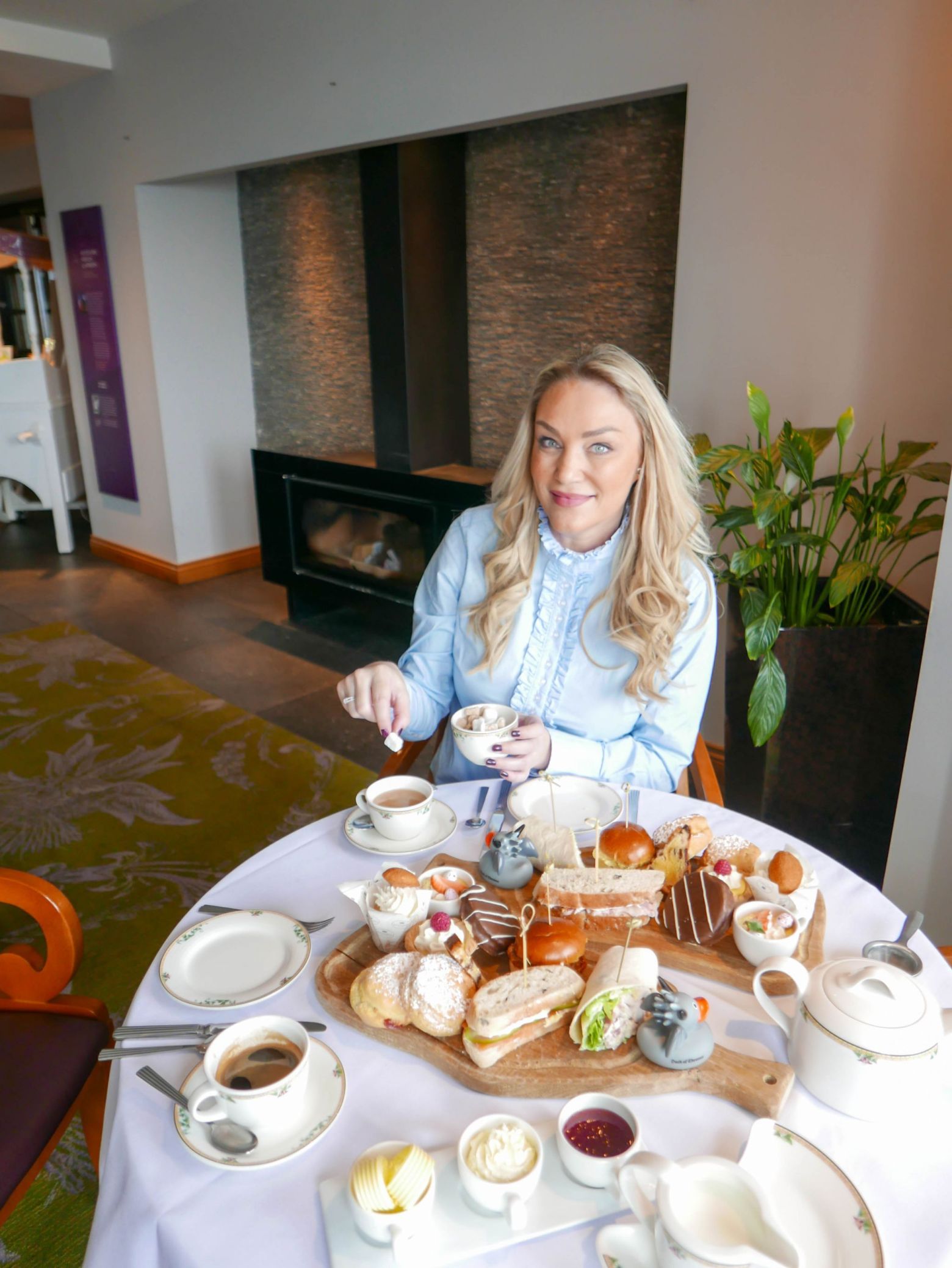 I really liked this hotel! It was so cosy (and very luxurious at the same time) Just how I want it to be!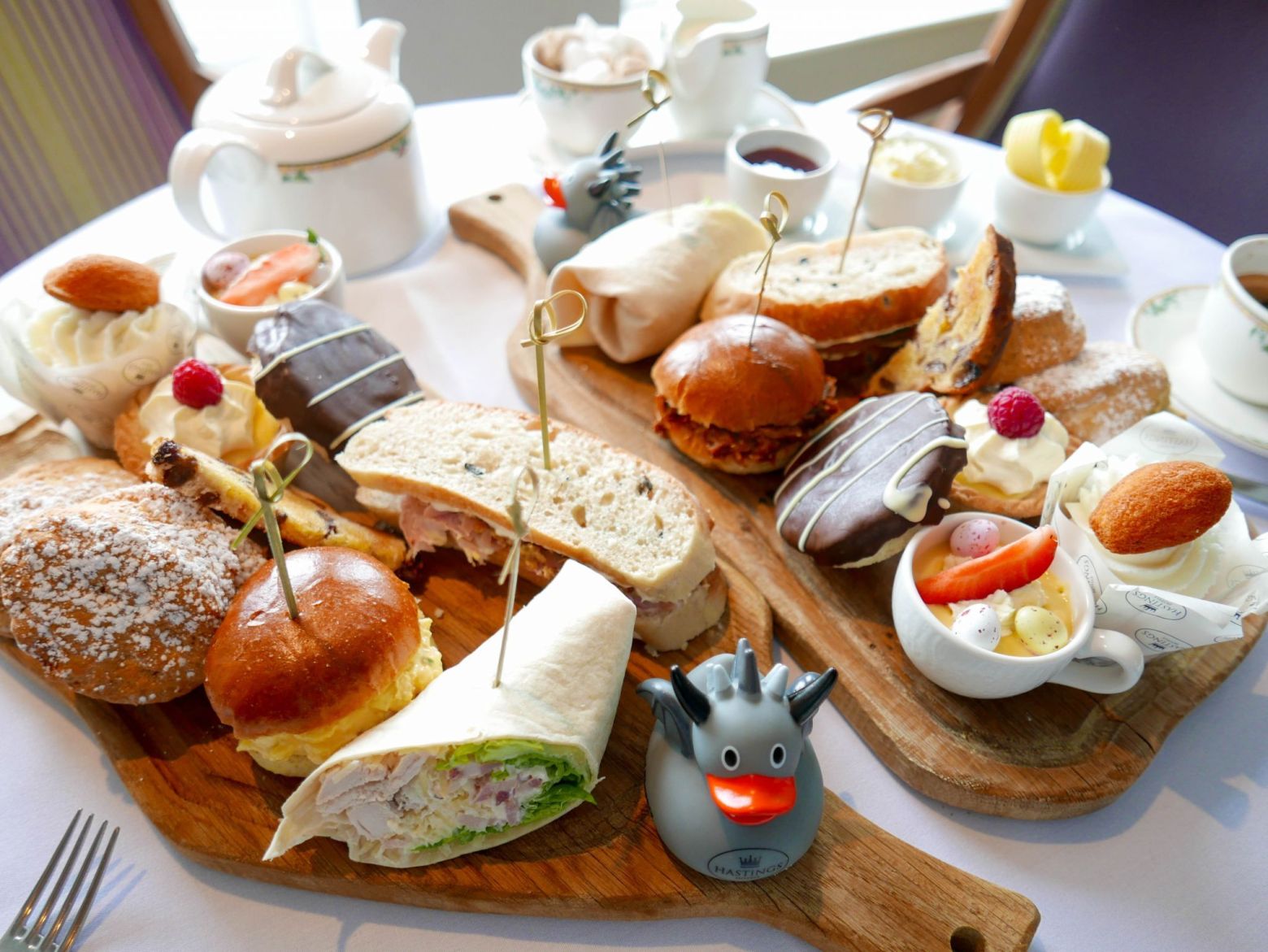 The Game of Thrones Afternoon Tea was quite a treat!
We had been warned that we didn't need dinner that evening. And I must admit… We weren't exactly hungry, when leaving. Isn't this just delicious? (The Hastings Hotels' "Duck of Thrones" was so adorable. Clara was really excited, when I gave it to her – and it is now the favourite toy, when she is having her daily baths)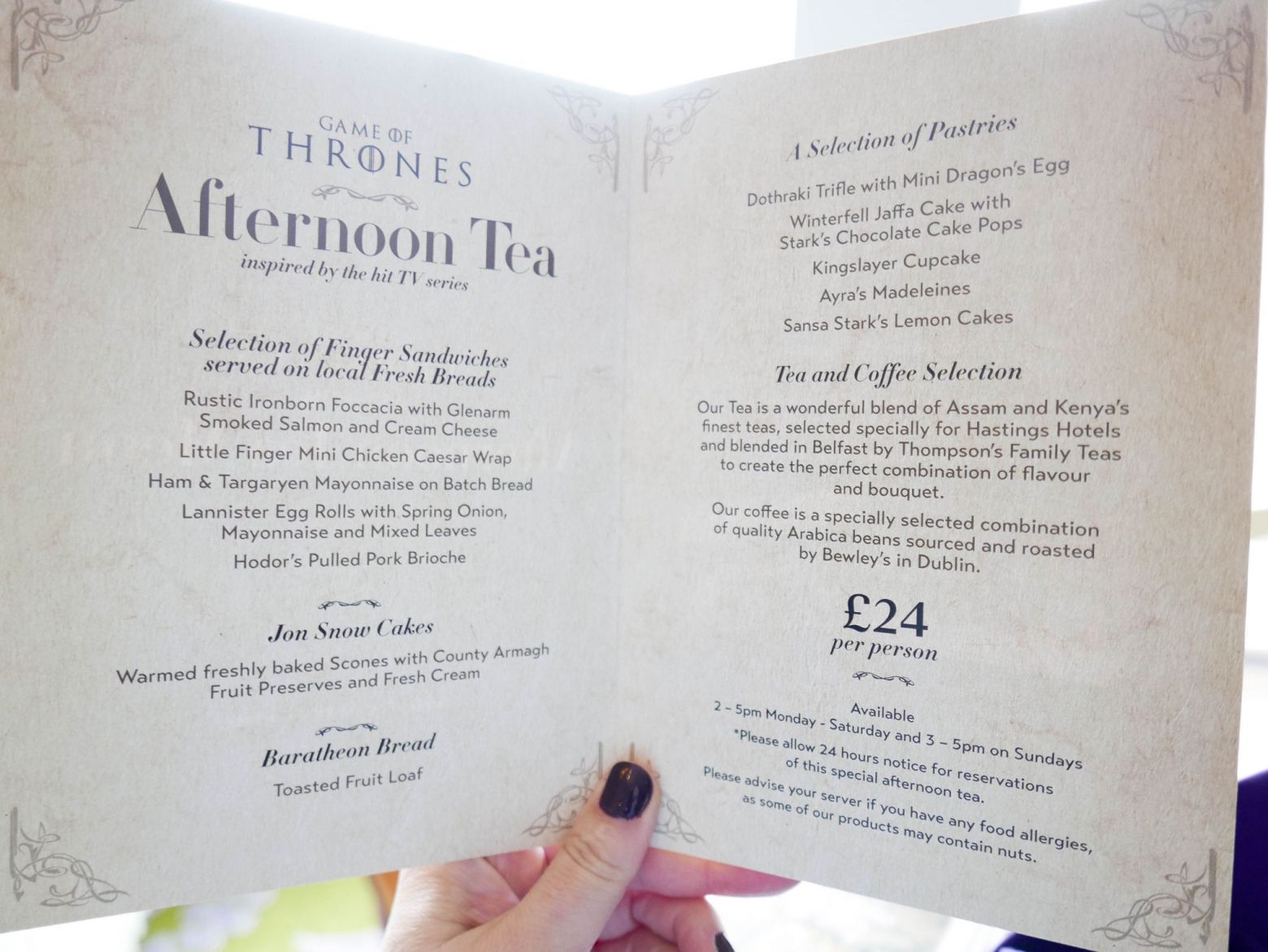 The sandwiches, cakes and pastries were all inspired by Game of Thrones. We found the idea highly amusing: John Snow Cakes, Little Finger Chicken Wraps, Lannister Egg Rolls, Arya's Madeleines… and Dothraki Trifle with Mini Dragon Eggs were just some of the things on the menu!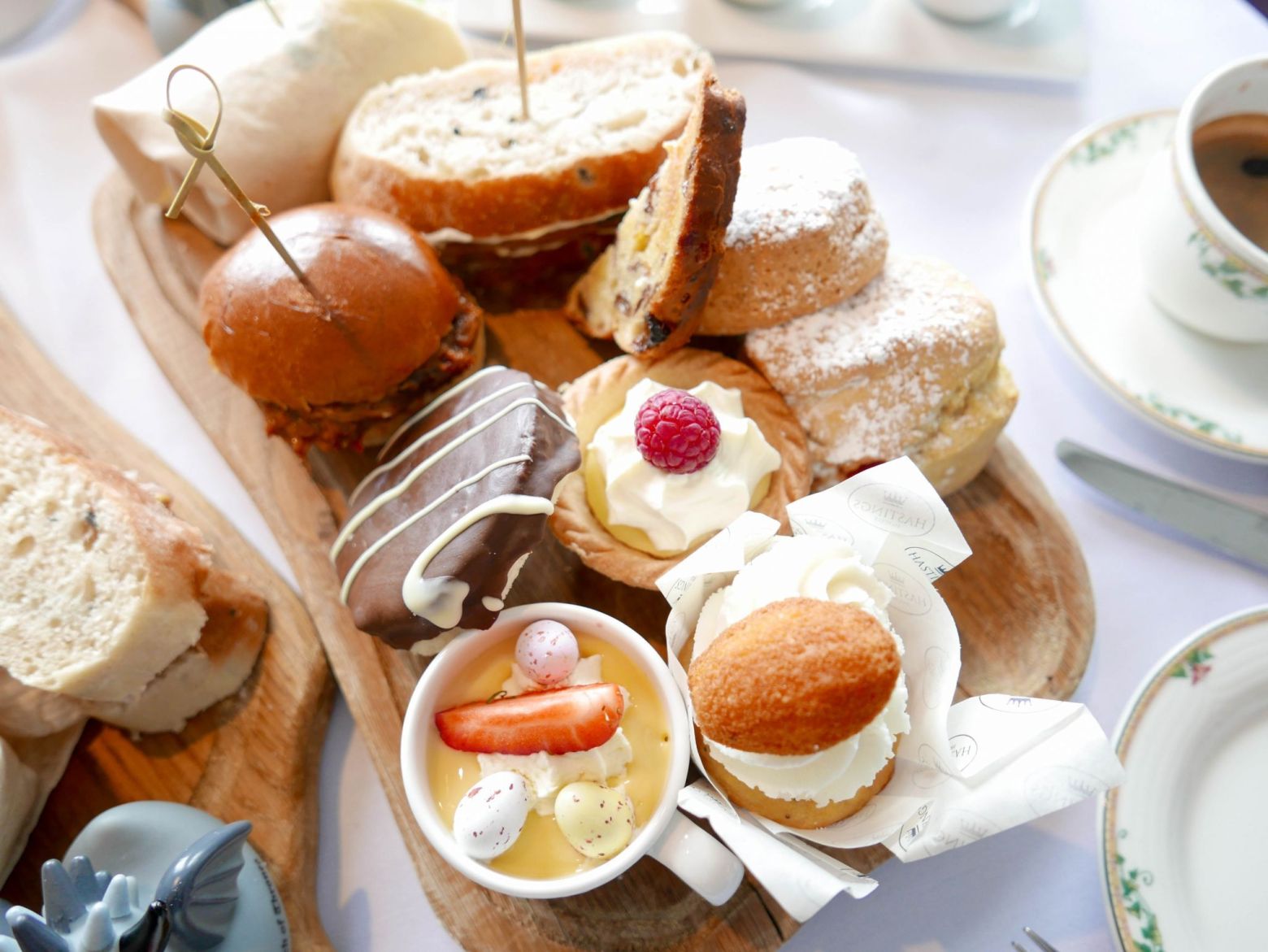 Can you spot the mini dragon eggs? Cute, isn't it? (and very tasty)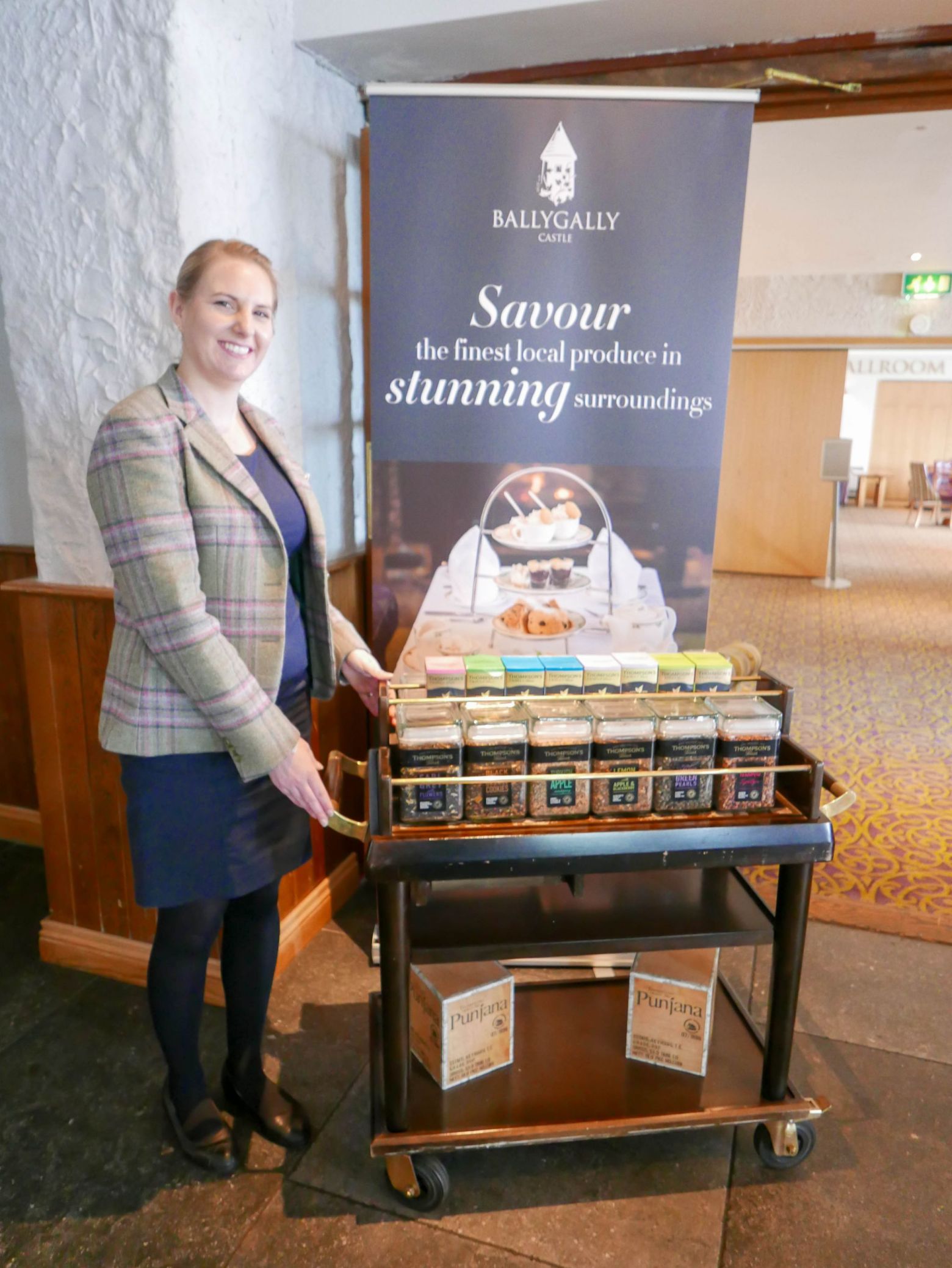 The tea selection served by the lovely Lindsay was a nice experience as well. They all smelled so good!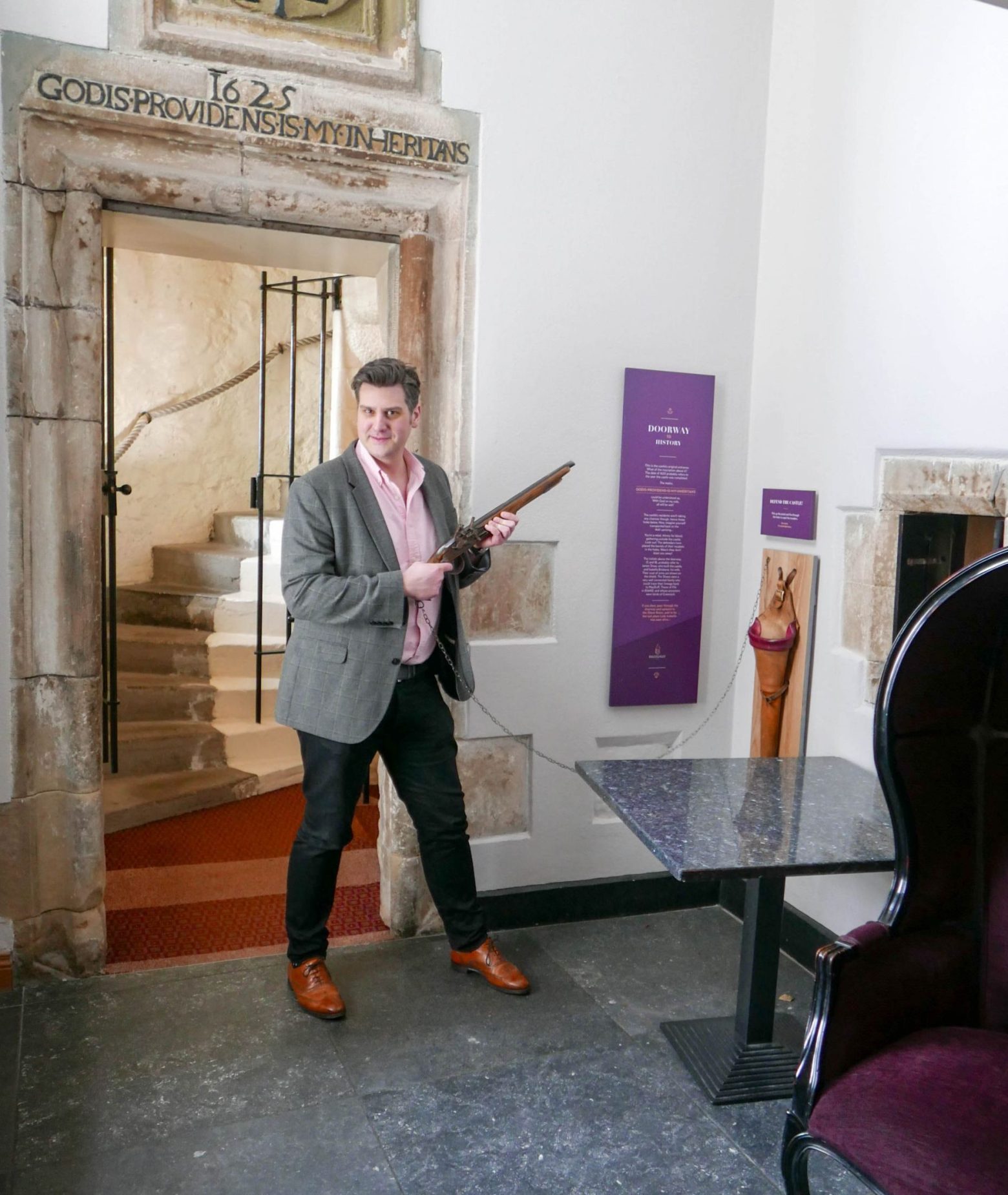 Every castle has to have at least one ghost – and the Ballygally has been recently reported to have as many as three! The most known about, The Ghost of Ballygally, has been around for the best part of 400 years. As we were on our way up to "meet" the ghost, Frenchie decided to bring a weapon.. Just in case!
Making my way up to the top of the spiral staircase to see "The Ghost Room" in one of the turrets in the oldest part of the castle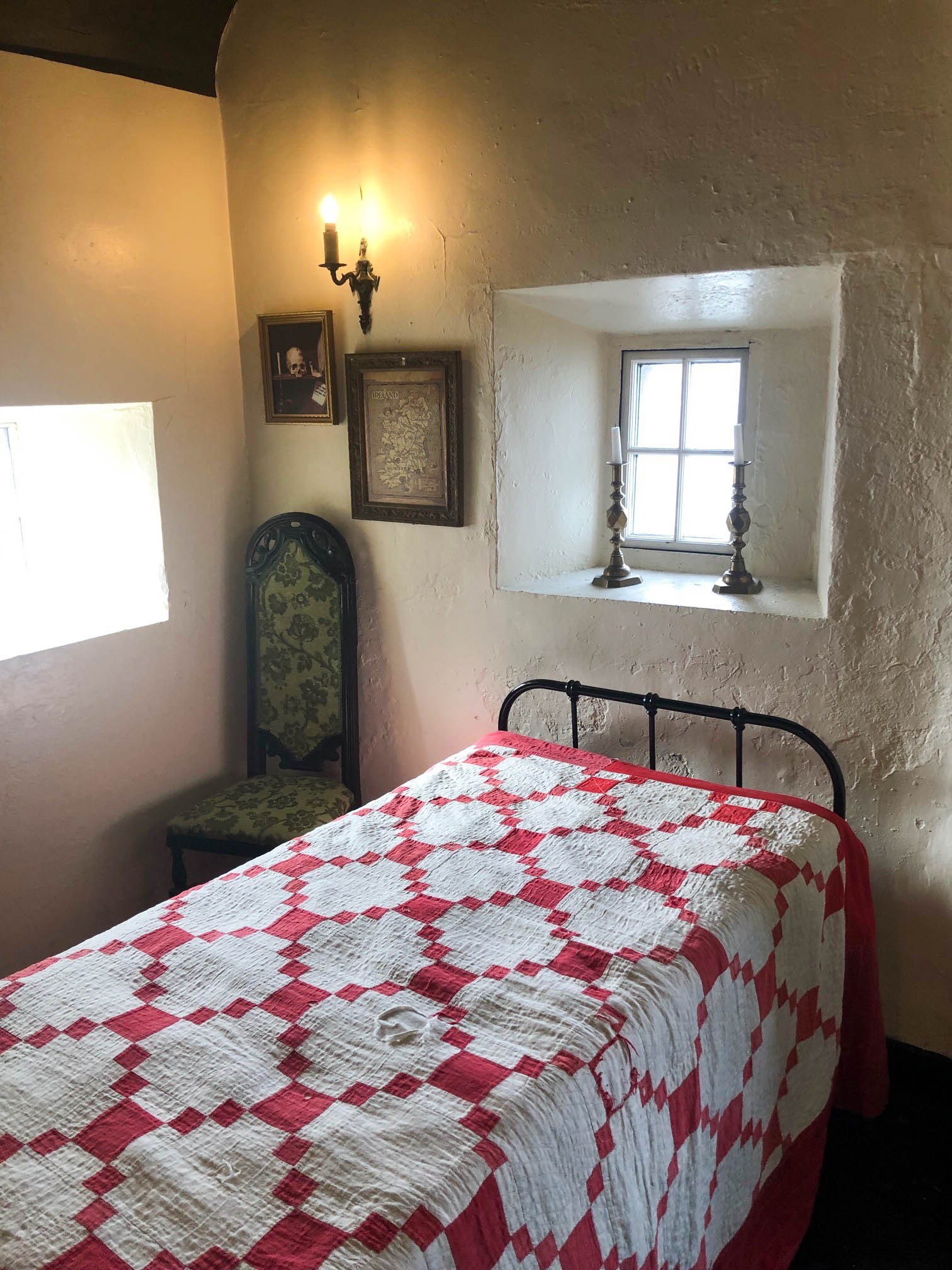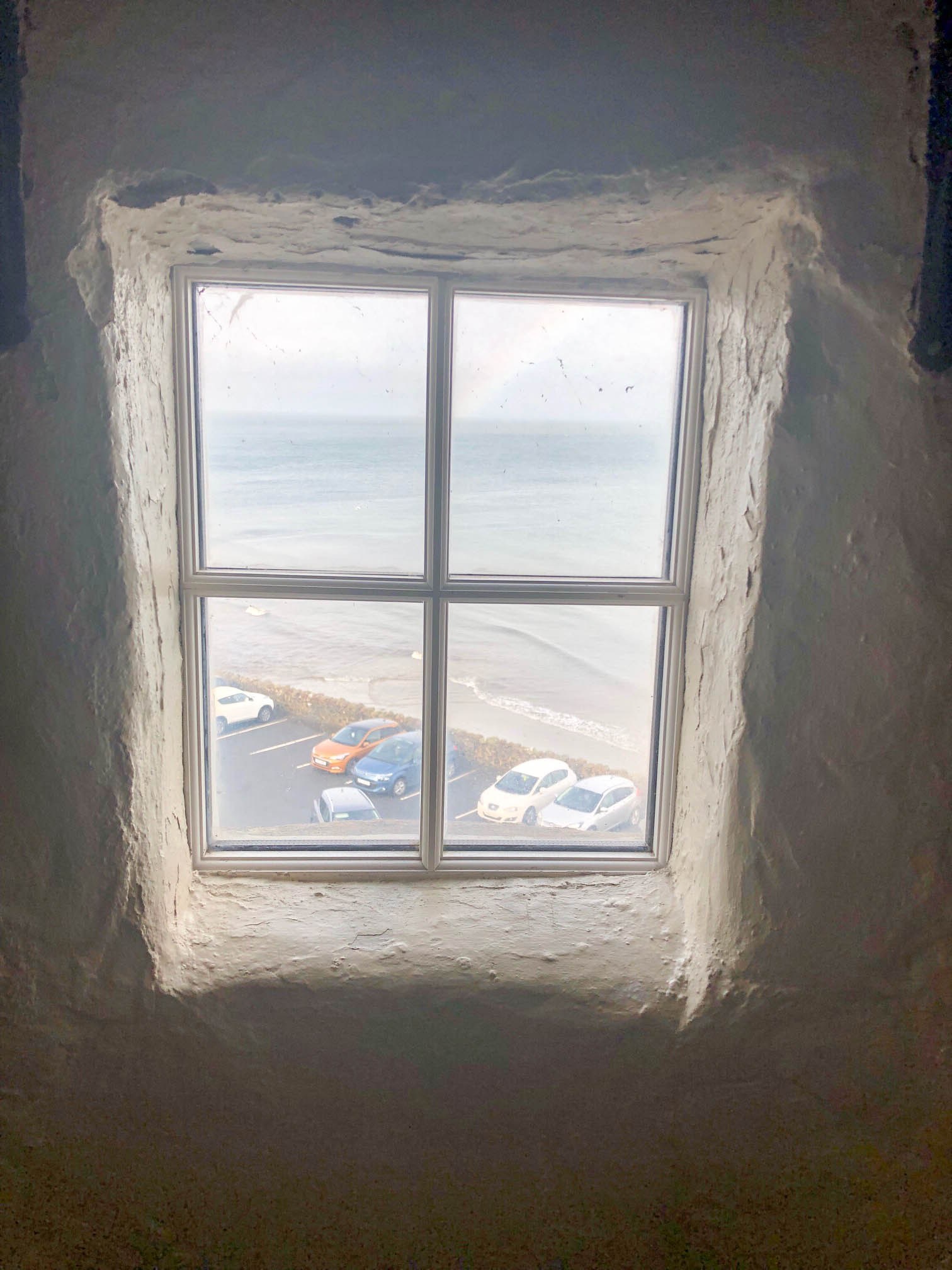 It is a sad story, that almost made me cry (being a new mum and all…)
Lindsay told us that the ghost is Lady Isabella Shaw, wife of Lord James Shaw. Lord Shaw really wanted a son, but when Lady Isabella gave birth to a daughter, he became so upset, that he locked Lady Isabella in a room at the top of the castle. Desperately wanting to find her daughter, she tried to escape and fell to her death from this very window… (and then I almost cried!) Yes, this place certainly has a lot of history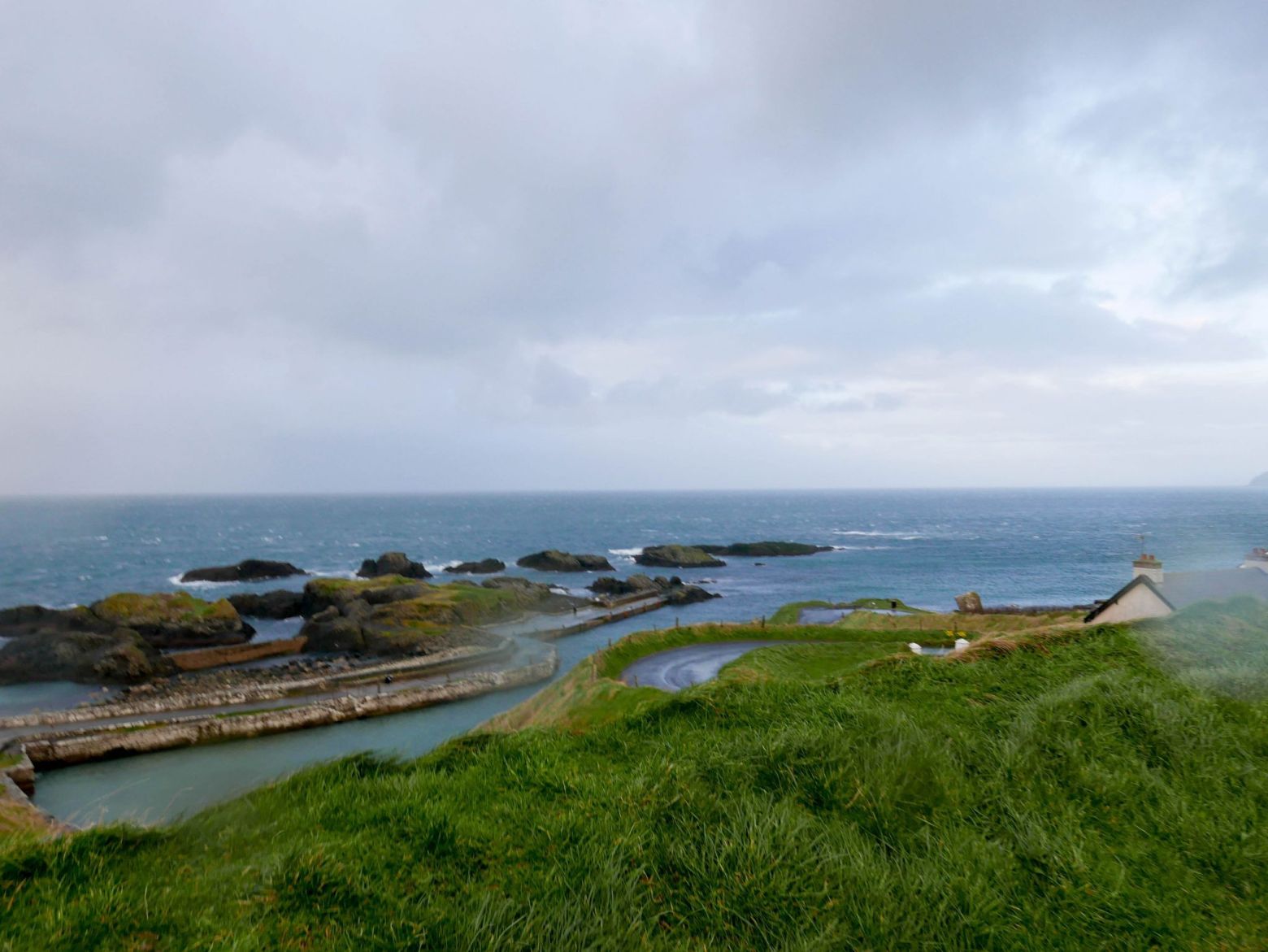 Speaking of history! Ballintoy made history, when HBO came around…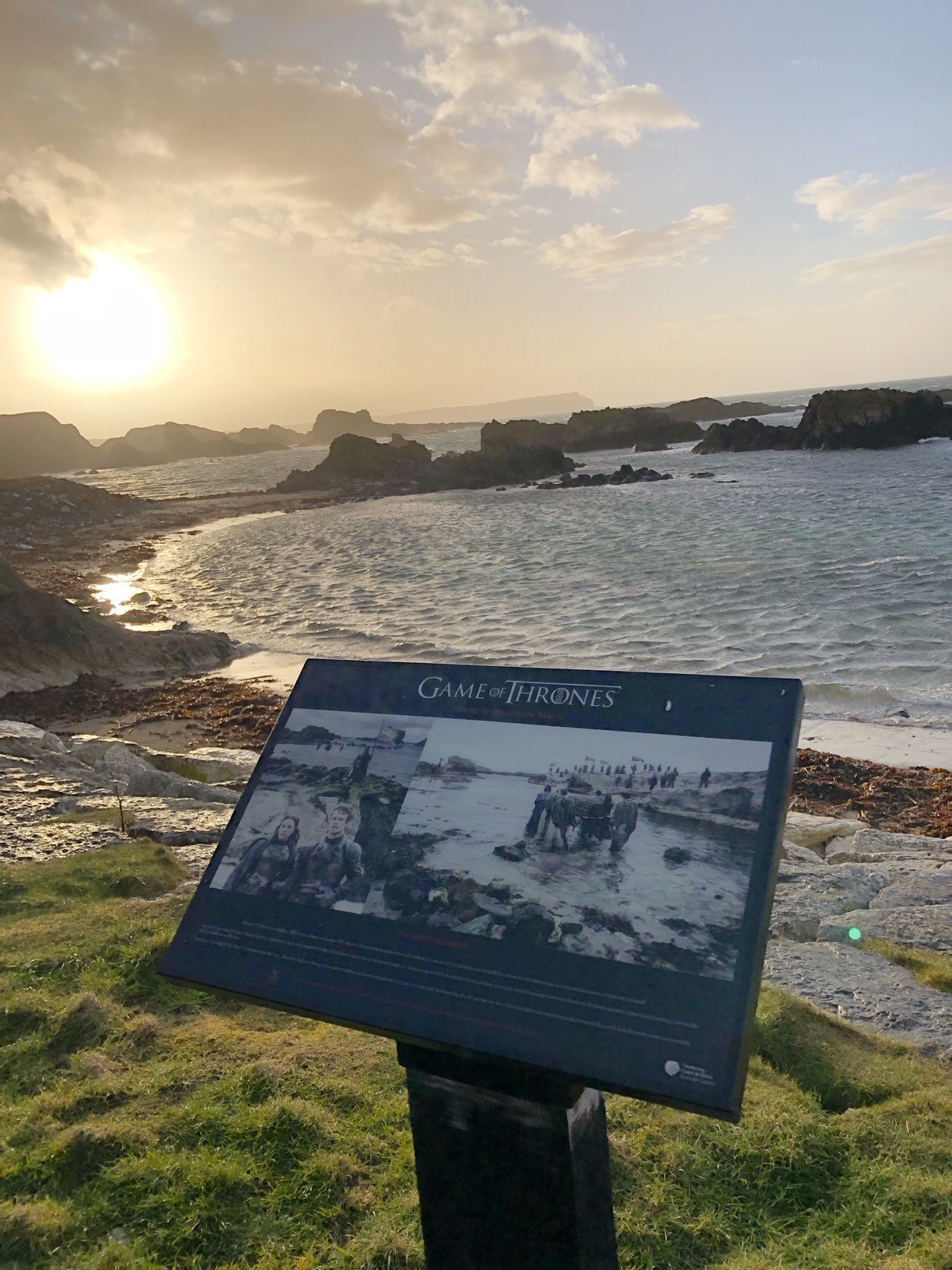 This is Ballintoy Beach – located next to the harbour.
Ballintoy Harbour on the Causeway Coast has become synonymous with Pyke and the Iron Islands. The nearby beach was also used for the filming location in the Iron Islands, when Theon reaffirms his loyalty to his family by being baptised into the religion of the Drowned God. Other scenes from Season 2 has been filmed here as well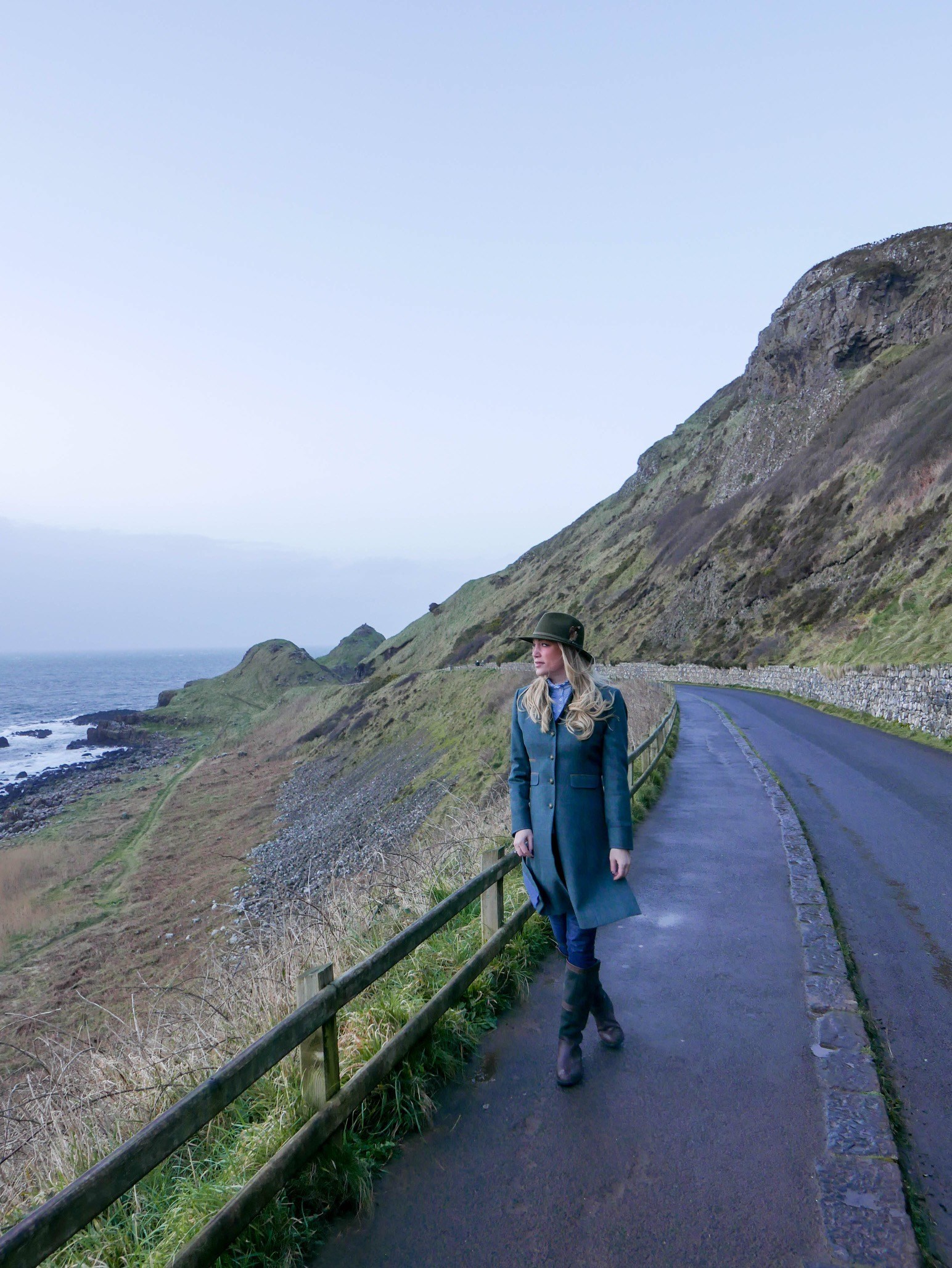 It was getting dark – and after a failed attempt to walk on the Carrick-a-Rede Rope Bridge (because of bad weather), our last stop on the first day in Northern Ireland was Giant's Causeway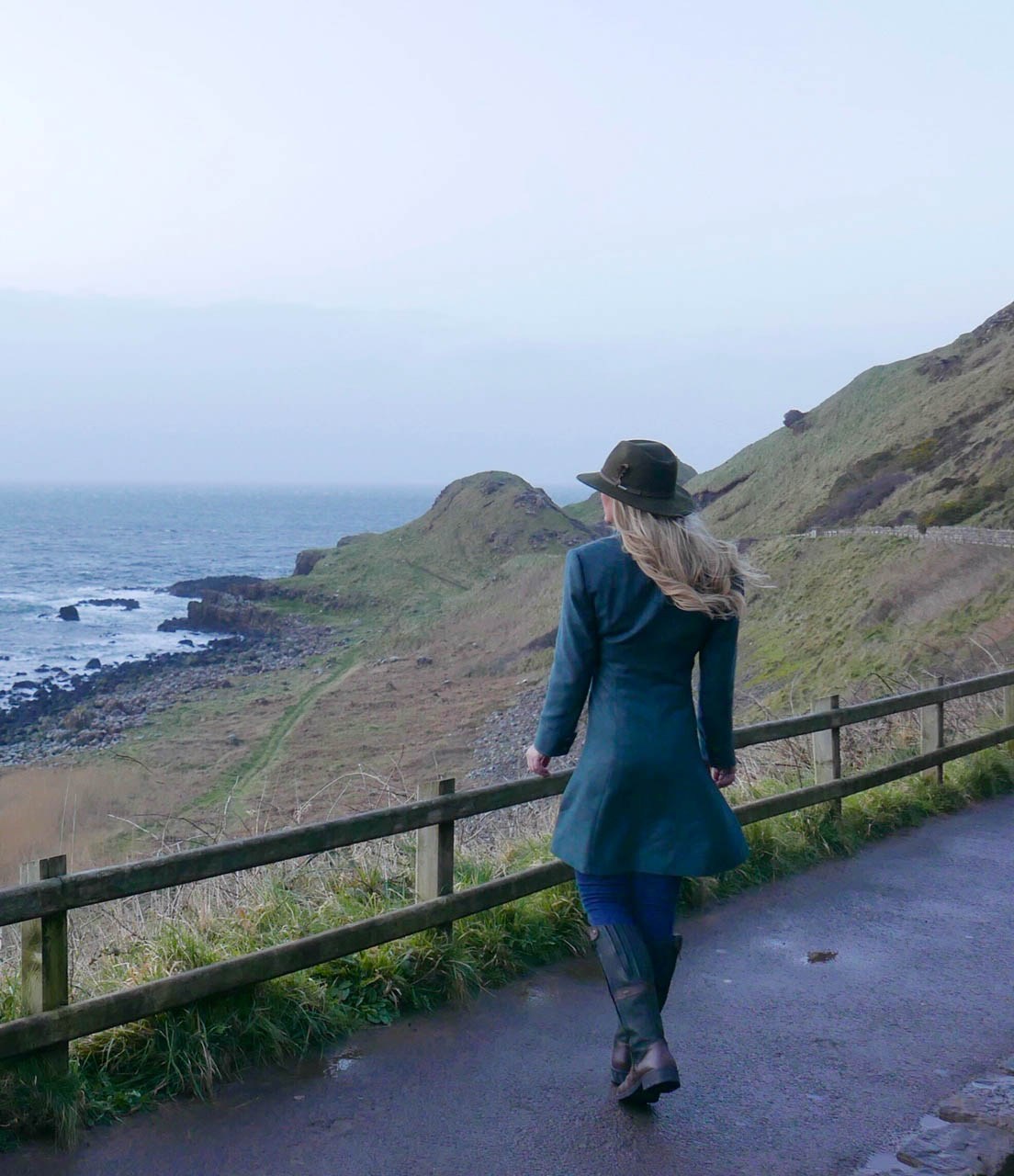 Formed over 60 million years ago, when molton lava cooled suddenly on contact with water, the Giant's Causeway is an awa-inspiring landscape of mostly hexagonal basalt colums.
I was very excited to go and see this Unesco World Heritage Site (1986) – But I ended up disappointed! Here is the thing, that you have to be aware of, when going to Northern Ireland… It can get really, really cold! Even though I am a Viking and was wearing warm clothing and my beloved gore-tex Dubarry of Ireland boots, I was not prepared for a VERY evil wind. We arrived too late in the afternoon, and all the other visitors were leaving (in a hurry, as it was cold). You have to know, that there is a bit of a walk before getting there. We still got to see the gorgeous views on my photos, which was an amazing experience… But sadly we missed out on the basalt columns. Maybe next time!
Read Louise's Full blog post detailing her trip to Northern Ireland on her website here 
Guest Blogger: Louise Loves London
---